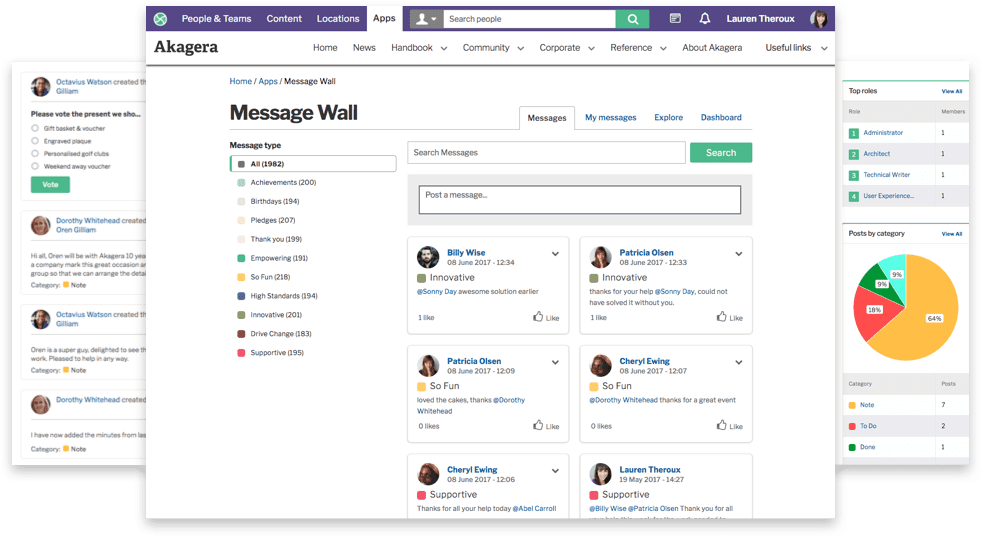 Whether you're replacing your existing Digital Workspace or implementing one for the first time, it's a big project that requires commitment from your team.
There are, of course, fundamental reasons for implementing an internal collaboration and publishing platform:
a fragmented workforce with part-time and home workers being more commonplace now in most organisations
lack of control and trying to keep up with the changes in the organisation and accommodating a new company culture
moving into a collaborative approach to working
But before putting together your team and beginning the project it's worth considering what's going to make the project a success. The overarching reasons are not enough when it comes to 'defining success'.
Here are some points to consider when implementing your digital workspace.
The intranet goals have to be defined – what's the purpose? How can we measure our success?
Stakeholders that haven't been introduced to the system from the get-go, won't endorse it or use it and therefore enthusiasm wanes. They will also find it difficult to see the value.
Collaborate early with all departments and stakeholders to define success. Most projects are seen to have failed or fallen short because the expectations within the organisation are different. Start your collaboration project by collaborating… it's not rocket science
Tie the intranet to a measurable business process. Give people a reason to go to the Intranet. Example: A government department that uses redaction every day to complete their tasks. They have to log on to the Intranet to redact and then publish sensitive information to an external website
The intranet should be a place to hang out. If it's a place to just read information then people are less likely to engage. If you empower people to comment, post and contribute then engagement is more likely. Communication is a two-way thing
Monitor the activity once a quarter. Where is activity strong? Do people understand the benefits of it? Build on the areas that people are engaging with and change the areas that aren't being used
Have a process for change. On-going change is definite and negative feedback is sometimes the most constructive feedback you'll get. It's how you deal with it – what's your process for change…
A common problem with IT business implementations is that the budget doesn't include a contingency for extended roll-out and training. If possible an incremental roll out is favoured. The project team will then have the chance to tweak and evolve according to user feedback
Accept that it can't meet everyone's needs. Check against the goals. What does it do? What doesn't it do? Have you considered what it might need to do in the future?
Keep it organic. Invotra is the window to all your business applications, it's a layer that provides a unified desktop for users. You'll need to adapt to changing times within your organisation and when this happens try to accept that you can't keep everyone happy all of the time.