Why is Intranet Information Architecture so important?
Well organised and structured information allows your users find what they are looking for, easily and quickly.
Good Information Architecture (IA) brings clarity and quality to your intranet's user experience and should include:
The titles in your main menu

The links you choose to distribute

Intranet sections

Content items
Before you start to build out your intranet, you need to map all your information so that you know everything is in the right place from the start.
1. Use spreadsheets to establish your intranet's Information Architecture
Love them or loathe them, organising your content can be simply and effectively organised in a spreadsheet such as Google Sheets or Excel.
If you are updating, or improving your IA, copy and paste your existing navigation titles. Link all possible sections and items (pages, news, policies, etc.) together. This will help you analyse what can be dense and complex amounts of content.
This is a sample spreadsheet, based on our intranet navigation, to help you get started. For more help and guidance, Invuse offer Information Architecture services, to help you understand how each piece of the platform fits together to create a larger picture, to help your users find information and complete tasks.

2. Create a system of folders for each tile
Once you have your navigation and structure arranged, create a system of folders reflecting the title and relationship of each tile (Sheets and Excel).
Then, save your content (words, images, files, links, etc.) into the appropriate folders so it's all ready to go when you build your intranet.
You're well on your way to becoming an intranet master and the creator of an Information Architecture that is clear, consistent and quality.
3. Use this opportunity to review, recycle and reduce your intranet content
With everything clearly laid out on a spreadsheet it is a great opportunity to review the content you have. It will be much easier to methodically check content for each section; marking what is good and what is bad, repeated or missing. You will inevitably identify what can be moved or deleted. Not everything has to go though, Megan Marrs offers lots of great ways to recycle the content you have in her blog, "11 Genius Ways to Repurpose Content" to help you improve engagement with what you have.

When you spread out your content and its structure like this, it can feel overwhelming. Remember, if you find it daunting and confusing so will your users, and the process you're going through is necessary.
4. Organise your intranet and its sections
As we've discussed, it's important for intranet webmasters and section managers and your publishing team to know what content goes where and why.
Ensure everyone involved agrees and understands the strategy to organise the words, images, files and links (the content) in a way that makes your intranet accessible and user-friendly. These tips from WC3 are for web accessibility, but will help to ensure all of your users are able to access and find the content they need on your platform.
5. Start with the primary menu
You might refer to the primary menu as a main menu or top navigation. It is the first collection of links a user sees and it is visible on every section, page, blog, group, etc. on your intranet.
You should carefully consider the titles you use in your primary menu. Is there enough content and is that content important or popular enough to justify an ever-present place on your intranet?

Titles should be relevant to all of the sections, related sections and items. They should be simple and clear and not repeat things like the name of the business.
They should also positively influence the titles of all the other sections, subsections and items. More detail on how this can be done is available in "How to Perfect Your Website Navigation Bar", a blog from Jimdo.com, which advises using short, concise names for your menu items and cutting anything unnecessary or available elsewhere.
6. Navigation options: What's the difference
Offering detailed examinations of all of the navigation options available to intranet and website developers, James Kalbach in Designing Web Navigation cites a quote attributed to Einstein, "Everything should be as simple as possible, but no simpler".
You may wish to immediately present users with all the options available to them but be wary of over complicating this navigation. For Invotra users, horizontal dropdown navigation from the main menu may appear like this: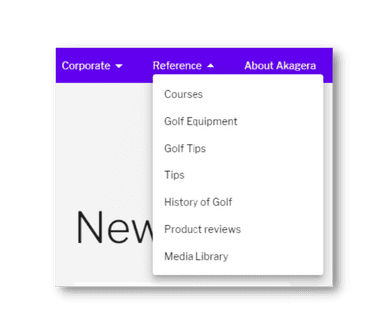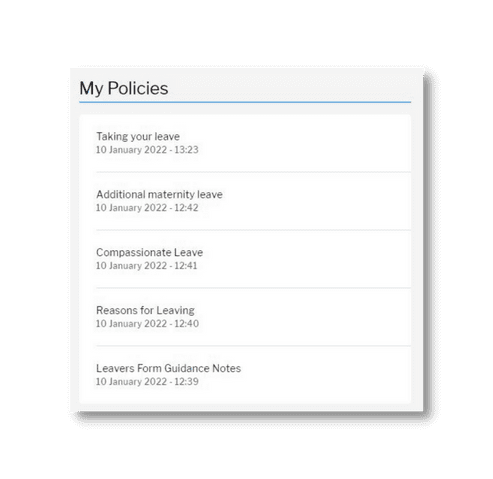 Or you may prefer to keep user choices minimal and simple. You could choose to only reveal the subsections or child pages once a primary navigation page is opened, listing a menu of choices on a side section using a section menu widget or panel.
Your intranet should allow you to choose if you want to display dropdown menus, and what depth you want to display.
Additional options may allow you to pin your menu to the toolbar, and a selection of menu icons.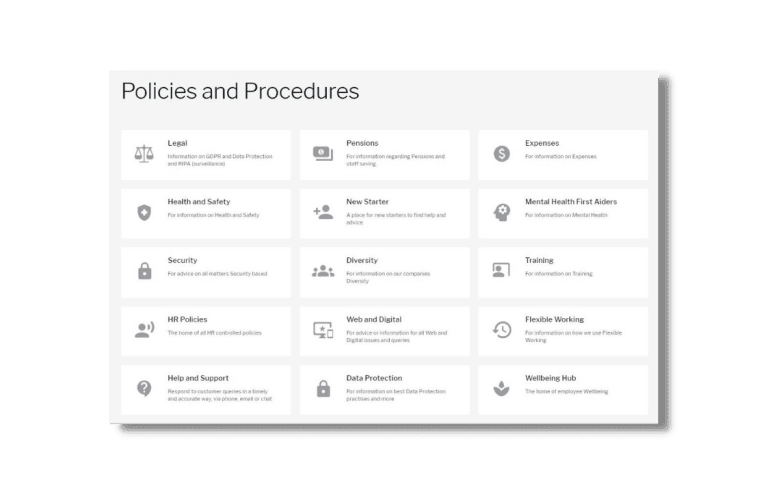 7. Moving onto intranet sections
The first sections you would usually create are the equivalent of a home or landing page. It is the introduction to an area and contains intros and links out to all other content that's relevant to the section's title.
Sections are commonly made up of two or three columns with, ideally, each column serving a specific function. For example, the first column does the navigation, the second contains the content, with the extra-navigational links in the third.
For more help with creating engaging and inspiring pages for your intranet, take a look at the layouts and guidance offered by Yaroslav Pentsarskyy in his article, "How to Create Engaging, Relevant Intranet Pages"
8. Navigation within sections​
If a section has lots of other related sub-sections, use a navigation widget to give your area a rigid structure. This will add clarity, accuracy and speed to your user experience.
We recommend you organise your content into 3 to 10 titles – try not to use too many titles. Each subsection should have enough content to justify a place in structural navigation, eg. it will have lots of offshoots of content.
For consistent user experience, the navigation must also always remain the same. It is the anchor point for all of your content and a consistent map for users to know where they are, and to be able to quickly move around that area of your intranet.
9. Using content types for navigational purposes
Think about your user needs and treat the likes of 'Page' and 'Policy' titles as part of your information architecture too. They should be endpoints in a user's search for information, but can also be used as access points to useful, related content and external links.
10. Using related content and related external links for navigation
Good user experience includes making it easy for users to find relevant information. This is where you do the hard work for users and signpost related content.
For titles such as 'Related content', 'Elsewhere on the web' or 'Downloads', your intranet should provide a list content type and a widget that lets you make these lists of links. If you do have a list of internal and external links, separate them and make it clear if they are external, so that a user is not unexpectedly leaving your intranet or vice versa.
11. Engage all stakeholders, teams and users with your IA
Implementing and maintaining an effective IA for your visible navigation and underlying structure requires stakeholder alignment and buy in.
To successfully achieve this, teams need to have shown IA has been designed carefully:
With research and analytics to well define and implement the content hierarchy
With navigation tools that help your users quickly achieve their daily activities
By implementing consistent vocabulary so that users easily understand the actions they take
Using a tagging framework grouping together key information to make it easy for your users to find related content.
With all of this in place your simplified and intuitive information architecture will help your staff navigate your internal communications platforms to find what they need, when they need it.