Last week I went to the funeral of someone I had met a few years ago. Andy Pearce was one amazing person and all the many people that came to see him off were pretty amazing people too. Looking around, I could see how he had touched everyone in different ways, inspired them, encouraged them and motivated them to do things just because he wanted those around him to succeed and be happy in whatever they did. This is what made him happy.
When I met Andy, I was just starting a journey having made a decision that I was going to make a few changes in my life – for the better both physically and mentally. My husband was going to a boxing gym and my youngest daughter started going too. At some point, I ended up having a session and totally loved it and started training regularly at A.R.D. Training Camp where I met Andy.
At the same time I decided to change the way I was working and starting looking for a new job. In my search I found Invotra Ltd and after the first interview, knew it was the place I wanted to be and I was right. The people at Invotra, from the Apprentices to the Founders, are inspiring, encouraging and motivating as they too all want the people around them to carry on succeeding and to enjoy what they do.
Sadly over a year ago, Andy was diagnosed with bowel cancer. This did not get him down as one would imagine but it did mean that as a self employed builder with a family to support, he could use a little financial help and so many of us were pleased to be able to give back to a man that had given so much to so many. A.R.D Training Camp arranged the Andy Pearce Boxing Day and I was proud to be able to have a bout to raise funds and proud that Invotra Ltd sponsored that bout.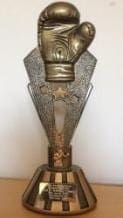 Andy did not survive the cancer but his example of being an inspiration lives on. I have learnt that whether it be in the work place and in life generally, if you want to be inspired, surround yourself with inspiring people. I do!