For many organisations, the homepage will be the most viewed section of the intranet.
Therefore, you want to be provided with the flexibility and control to choose what you want (and need) to display. Invotra prides itself on providing the tools to help you deliver an engaging and personalised user experience.
Menu
When it comes to the first and second level menus, you decide what is shown and what the headings are called.
For example, in the image below, there is a menu heading called 'Get Involved' which holds applications such as blogs and groups. However, your organisation might prefer to simply call the section 'Applications'. You can also control what the menus themselves display, for example, you might choose to disable 'events'.
There is also the functionality for you to add an image/icon to make it clearer what each menu relates to. Not only this, but you can also configure the colours used.
You are given the freedom to make these changes in the Invotra admin section of the intranet. This area is available to webmasters and users with certain roles such as 'brand manager' that have the appropriate permissions. This removes the need for hiring external help from developers, potentially saving your organisation a lot of money.
Widgets
In order for your homepage to be useful for your employees, they need to be able to quickly and intuitively access the information that they need.
Therefore, when planning your information architecture, decisions need to be made about which content your employees need fast, simple access to in order to do their jobs. This is in addition to things that you want to be able to bring to their attention, for example, company news.
This is where our extensive library of widgets steps in, with over 500 possible combinations to choose from. These combinations include many different types of content such as news, blogs, polls, and search. This customisation allows you to easily prioritise and organise content into what is most important for your different users.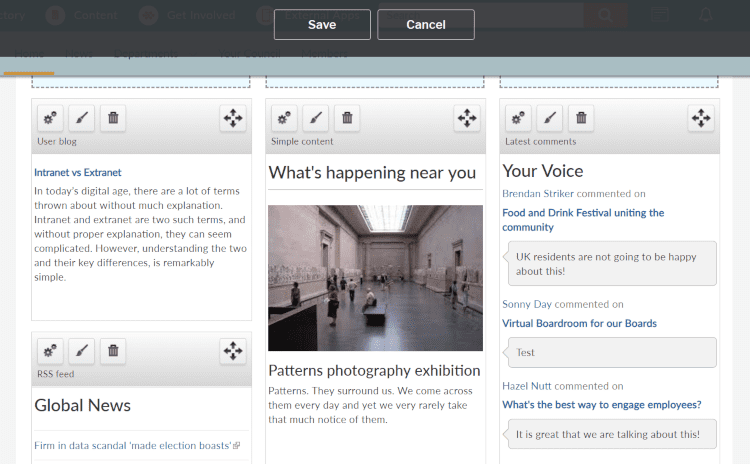 Widget configuration
Widgets act as a bridge between content and it being displayed on the page as an attractive feature that people view and interact with. They are essentially the building blocks which allow you to put pages together by displaying content on the page.
You can configure widgets to display the content of your choice in a layout of your choosing.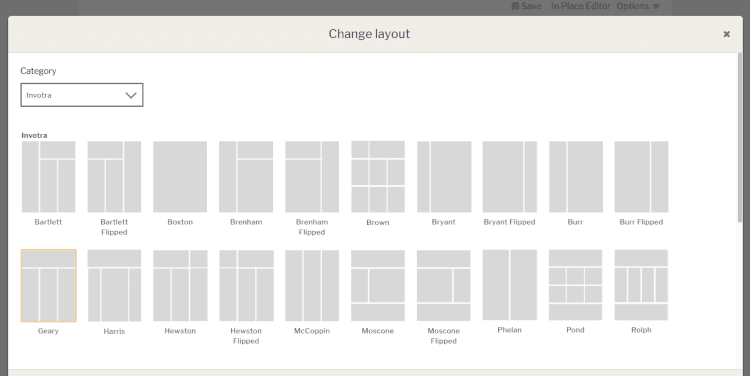 And, you can then go a step further choosing how the individual widget itself displays. For example, you might want images showing, or, just text.
Not only this, but you can use targeting, ensuring the right information is seen by the right people. You might want an office in one location to see a certain news stream, whilst another office sees something different.
Finally, our widgets (as with everything we do) have been built with security and accessibility in mind from the get-go. They automatically only show content to people who have the correct permissions. And, due to accessibility being at the forefront of our minds from conceptualisation to execution, each page you build is lined with accessibility fundamentals.
Here is an example of a homepage layout where the top focus is on news. You could have the same layout but choose blogs, or events to be pulled through instead, for example.
With Invotra's flexible tools and in-built functionality, you are given so many choices to find the right fit for your organisation, ensuring you can build an engaging and personalised homepage.
To find out more about Invotra's capabilities, click here to talk to one of our experts.