In June 2011, Invotra (iO1, as it was known then) was a very young company.
Still very much in startup mode, we were based in a tiny office called the Old Bakery in Woking here in leafy Surrey. This was the first time that CEO Fin Galvin branched out from his garage office and paid rent for a company office near his home. Interesting times, for those who are familiar with the startup culture. Things were getting serious.
When the seeds of what were to become Invotra were just taking root, Invotra took a major decision: in order to recruit the best talent to do what we wanted to do, we needed to develop our own talent. At that stage, the notion of hiring apprentices was pretty much one of economic necessity. Invotra couldn't have afforded paying over the odds for software engineers or drupal experts. The market, not dissimilar to what we're experiencing today, commanded a premium for folks with deep technical skills.
Fin, and his wife Alison, who is our HR Director today, decided to engage the apprentice resource team at QA. QA's Mike Craig was there at the beginning and introduced Billy and Nqobile to Invotra. We had initially signalled that we only needed one apprentice resource; but, when they both pitched up to the interview, Fin knew he couldn't choose between them. They both shared character and the quality traits he wanted in the future Invotra.
And so Billy Clackers and Nqobile Dube joined the company in the first week of June of 2011. They were both 18. In Billy's case, he didn't even know HTML. To say they were green was a massive understatement.
But what's happened in the intervening five years?
Billy has gone on to be Invotra's Head of Product. He works with our CEO Fin and me on the product's vision, strategy and roadmap. He's been instrumental in driving the product forward, from simply being a glossy version of a Drupal instance to a full-fledged product in its own right. Billy's contributed to the Drupal community. He's demoed Invotra to countless government departments – including the CDIO of HMRC – and a number of private sector clients. He now manages a team of three who are focussed in areas like user experience, design and accessibility.
Nqobile started off testing and got used to using Drupal. A year after he joined, Nqobile became a deployment engineer doing deploys of releases. A year later, he became a client services technical lead helping our clients understand their requirements and technical feasibility. He's served us as a pre-sales consultant devising solutions for customers. In the beginning of 2015, Nqobile was promoted to Technical Services Manager, where he currently leads the team (some of whom are more than twice his age) responsible for "keeping tens of thousands of customers happy" (his words) by ensuring that our systems are running and stable every minute of every day.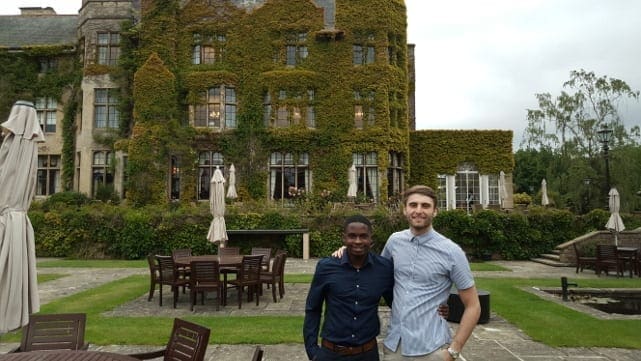 To recognise their outstanding achievements over the last five years, the Directors took Nqobile (on the left) and Billy to an exceptional 13-course dinner at The Latymer, located at the home of England Rugby at Pennyhill Park. Over a few bottles of wine and numerous fabulous culinary adventures, we talked about their experiences over the last five years, but we also talked at length about the expectations for themselves and for the company.
It was an amazing evening with terrific service and wonderful conversation.
Here's what Mike Craig, account director for QA Apprenticeships, has said about Billy and Nqobile.
"Billy and Nqobile were among the very first batch of candidates that QA engaged with, as we launched the initial Developer Apprenticeship programme in London in 2011, the first offering of its kind in the UK at the time.
Billy showed glimpses of leadership capability even then, and it was clear Nqobile had some technical skills and an enthusiasm to learn more, so we were delighted to see them offered the opportunity to join iO1/Invotra in Woking, and were confident that they would do well, while bringing different skills and abilities to the table.
QA Apprenticeships are very grateful that Billy and Nqobile adapted so successfully to the initial technical training delivery, (set in a De Veres hotel location back then), and coped with the cross trained into the on-the-job requirements, soon proving that the decision of iO1/Invotra to on-board resource at Apprenticeship level was a sound business decision. They have gone from strength to strength, becoming role models for future apprentices, and fantastic ambassadors for both iO1/Invotra, and indeed for QA Apprenticeships."
Lessons from five years of working with apprentices
What have we learned from five years of working with apprentices? Firstly, I speak on behalf of all of the directors when I say that this has been one of the most rewarding experiences of our lives. Embracing apprentices and the apprenticeship culture has made us better – and not just the company – but us as people, leaders and managers.
Here are a few learnings from our last five years:
Apprentices need training. The number one thing a company and its management needs to provide apprentices is training and an education. One of the ways in which Invotra does this consistently across all new Software Developer Apprentices is by making all new apprentices spend the first few months with Invotra as a QA tester.
Apprentices need support. They need investment from management and open communications with the ability to feedback concerns and opinions to others. They need structure and frameworks, but within that, they need the freedom to express themselves. Be willing to provide assistance when they are ready and willing to take on more responsibility.
Apprentices need time. Companies shouldn't be hiring apprentices expecting quick wins. Apprentices are on the job to learn. They are students. They do this learning over long periods of time. The Project Manager Apprenticeship, for instance, can take up to two years.
Apprentices need each other. One of the best accidental outcomes of hiring Billy and Nqobile at exactly the same time was that we quickly realised that they needed each other. They needed to rely on each other, to bounce ideas off each other and to support each other in ways that we never could help. Every single apprentice who has joined our organisation since then has benefited from having others around them who have gone through similar experiences.
Apprentices need apprentice graduate mentors. We spoke about this over dinner. Our new apprentices need to see successful apprentice graduates. Those graduates should act as leaders, providing inspiration and mentorship to new apprentices.
Apprentices need to enjoy what they do. It's crucial that an organisation develops and fosters a culture where apprentices can be productive and learn, but also have fun. We all need the odd break throughout the day – particularly when we're working long hours. We need to socialise and hang out, and relax away from the office. We need to see each other for who we really are, away from the demands of work.
Where do apprentices get us?
Apprentices and apprentice graduates like Billy and Nqobile. Where do they take a company? The simple answer is, they take us everywhere we want to go. Apprentices, when fully supported, give so much. They work exceptionally hard. They understand our customers. They understand our product. They get service, and when our service could potentially let our customers down. And they get the wider market. They see technological trends before others.
Invotra has invested heavily in young talent like Nqobile and Billy. It's worked brilliantly for Invotra, and we will continue to do that.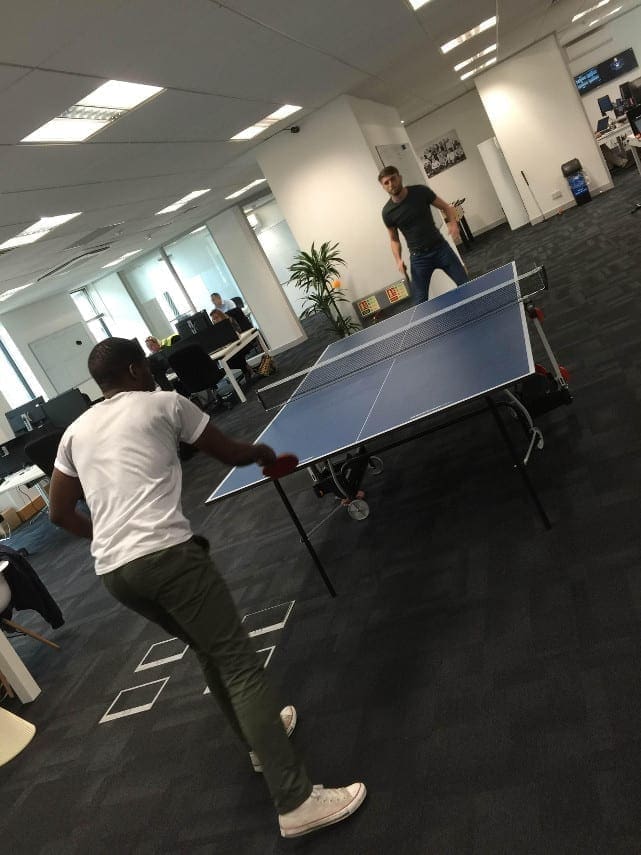 Today, ⅓ of our entire staff are either apprentices or apprentice graduates.
Just this week, we've learned that one of our apprentices, Edward Ireson, has completed his apprenticeship and is awaiting receipt of his certifications next month. Ed is quickly becoming one of Invotra's better search & Solr experts.
In the last month, we've hired three new apprentices in Umaan Ali (digital marketing apprentice), Jordan Laughton (project management apprentice) and Ben Taylor (software apprentice).
We're taking this opportunity to send a hearty congratulations to Nqobile and Billy! We couldn't have built this company without these two guys. Those of you who work with us (both internally and externally), who know these two guys, can attest to that statement.
We'd also like to take this opportunity to say thanks to all of our apprentices and apprentice graduates.
Thanks for everything guys! We couldn't have done it without you!
If you're interested in applying for an apprenticeship at Invotra, drop us a line at jobs@invotra.com!