At Invotra, we understand that time is precious.
Your employees want to make to the most of their valuable, and often limited, time. When it comes to their intranet, having to view a cluttered digital workplace full of content that isn't necessarily relevant to them is an inefficient use of their time.
We understand that your employees want to see engaging and relevant content that assists them with their role, and they want it to be easy to locate.
In large organisations, with abundant content to store and display, content targeting is vital in allowing users to feel their experience of your intranet is personal.
And, for those in smaller organisations, knowing that the information needed will be provided to all involved gives workforces trust and peace of mind that your intranet supports the work they do every day.
Whether your workforce are seeking blogs, manuals, news articles or policies, our content targeting feature provides your communicators and content authors with the tools to make sure that targeting and distributing their content is an easy and efficient process. Providing your with control and flexibility is always at the forefront of our minds.
How does Invotra's content targeting feature improve the employee user experience?
Prevent your employees from wasting their time. With content targeting, relevant and up to date information is always easily accessible and clear.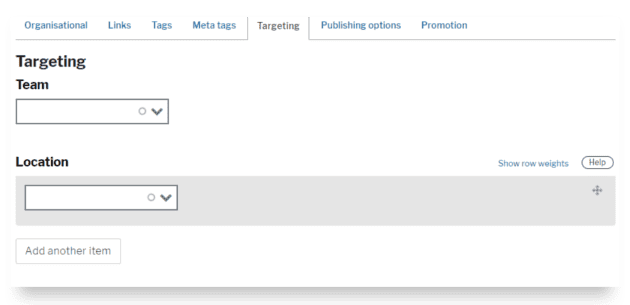 Content authors, editors and publishers can rest assured that their content reaches their intended audience whether this is by teams, role grades and/or locations and regions.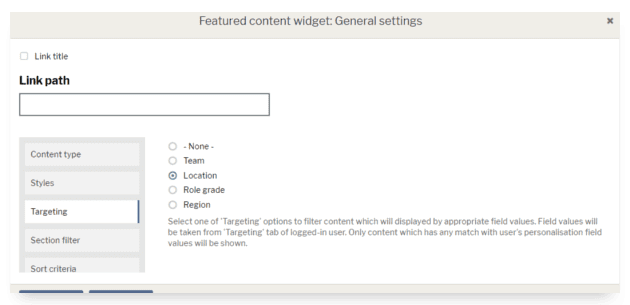 With our easy to use widgets, you can transform any site section to display the relevant content for that area.
Ensure that your intranet delivers your essential organisational messages to all of your workforce whilst avoiding overloading them by using our content targeting features.
Content targeting allows internal communicators, knowledge managers, and content editors to push relevant information to specific audiences. For example, there might be content that is important for the marketing team to see, but not your I.T team. This feature is great for scalability as the more employees you have, the harder it can be to manage and control your content distribution.
Major central government departments and thousands of their users rely upon our Invotra intranet and portal services every day. If your current intranet is not fit-for-purpose, get in touch today and ask us for a free assessment and recommendation or click here to book a free demo.