How do you track whether your intranet is succeeding?
In his workshop at the 2018 Intranet Now conference, Lindsay MacVean, Invotra's Analytics Product Lead, explored how we measure employee engagement in a connected workplace.
Setting goals
What does success look like to your organisation – what goals have you set or been tasked to improve?
This may well depend on the values of your organisation and may include:
Telling the strategic narrative
Engaging managers
Giving employees a voice
Integrity – being open and honest
Your goals may have intentions such as giving users a stronger voice and control over content or may strive to drive innovation via generating ideas.
Example
1. Increase actions per visit (engagement) in order to give users a voice
2. Achieve 1:1 gig worker to internal staff comment rate in order to improve engagement of 'gig' workers.
Capture points
How do you capture information?
We have customer tools such as Matomo and Google Analytics combined with server logs/queries like MySQL.
But you could also extract:
Customer data
User feedback
HR data
And what are the dimensions of the capture points?
Standard in Google Analytics/Matomo are:
Time
User ID
Entity ID
Action (value)
User agent
Physical location
Intranet specific and included in Invotra are also:
Team
Role
Office location
Information Architecture (what are people doing in a specific area of your intranet)
Do your capture points give the dimensions needed to measure progress towards your goal?
e.g. Number of employees/gig workers, comments per user.
A report could cover:
Intranet engagement – number of actions on content and by whom
Intranet Collaboration – actions with each other, which groups
Intranet Performance – wait times, distribution of content
How are you helping to achieve your organisation's story?
You may want to explore:
Your audience – do you want to demonstrate leadership and/or encourage self-serve
Charts & Graphs can show % comments per staff type
Analysis & conclusion e.g. our gig workers are becoming more engaged but more work is needed
To automate or not to automate?
You can use a custom, dashboard or business intelligence report. Whatever works for you – aim to focus on the signals and not necessarily just the noise at some regular interval to show change.
Here is an Invotra dashboard we might use which tracks Message Wall, top message types and contributing authors: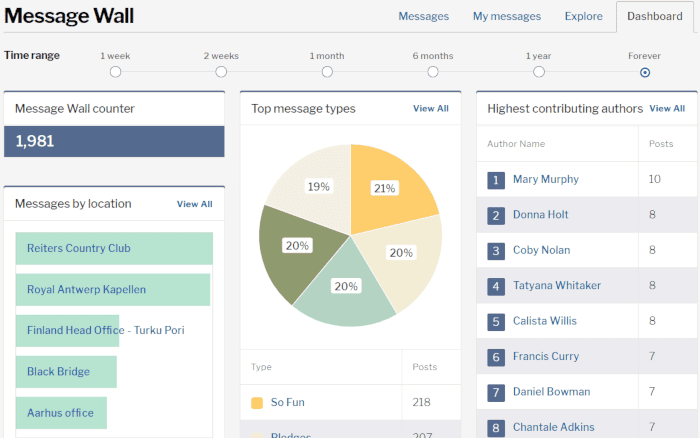 You can tell your intranet story via a report and demonstrate how it helps towards your digital, communications or HR goals such as boosting employee engagement.