Lounging in the sun last week on holiday I met a gentleman who owned a large construction business. Over the last two decades he had been in everything from tunnelling to commercial development, he now had teams delivering refits to high street stores. These projects are time and quality sensitive, a single delay in delivery endangers all future contracts with a high street chain.
At the same time, he had seen the industry change from needing to employ full-time specialists in each craft (carpentry, plastering etc) to now being a middle man with a book of trusted contractors. This new eco-system of 'gig workers' required the actual day to day business to look more like an HR agency. The normally fixed availability of employees gave way to logistical challenges of arranging exactly when each contractor would be available and if they were up to date with the latest requirements and standards for the project. This flow of people and information is additionally complicated if there is no clear digital toolbox to give everyone a single point of reference.
This is why we developed Invotra Portal – to address the challenges of a modern enterprise. We built Invotra Portal iteratively, in collaboration with our existing intranet customers in order to meet their real-world challenges. This was based on our top-down hierarchy of 'site sections' that our customers use to organise their information architecture. Some of our customers with large repositories of manuals and documents have a hierarchy over 30 levels deep.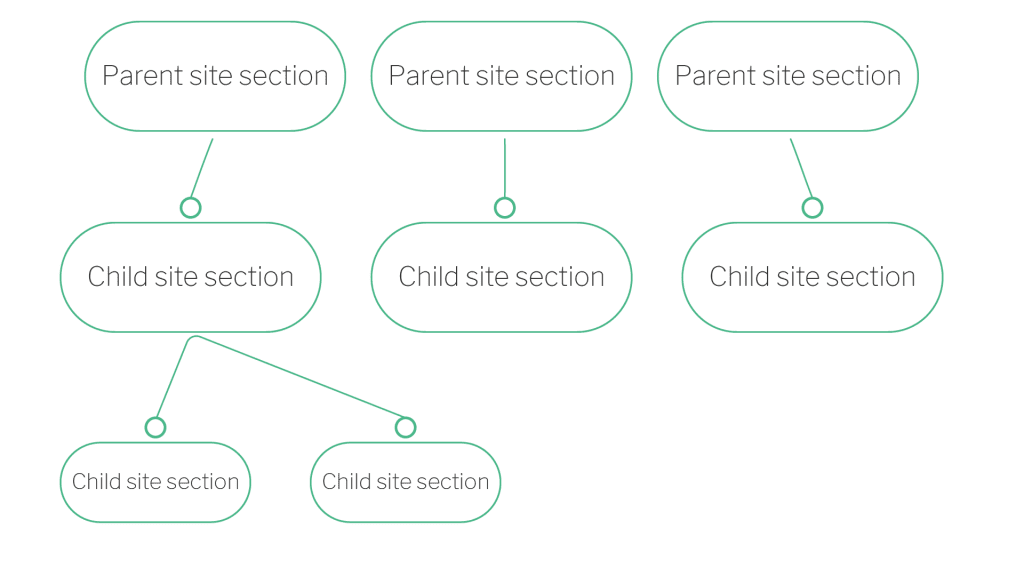 The Invotra philosophy is to work from the top down. Starting with the business leaders and cascading their vision downwards, delegating control towards the periphery of the enterprise.
We also work from a starting point of all information being public for core employees and only restricting what needs to be restricted, as opposed to permission being delegated on a 'need to know' basis. This suits businesses that understand the modern digital trend towards flexibility and openness but also want to protect their business from the chaos of different individuals and silos doing their own thing.
Building Invotra Portal we iterated through three distinct stages (building on top of each other) to give customers the flexibility and control they need to take their organisations to the next level.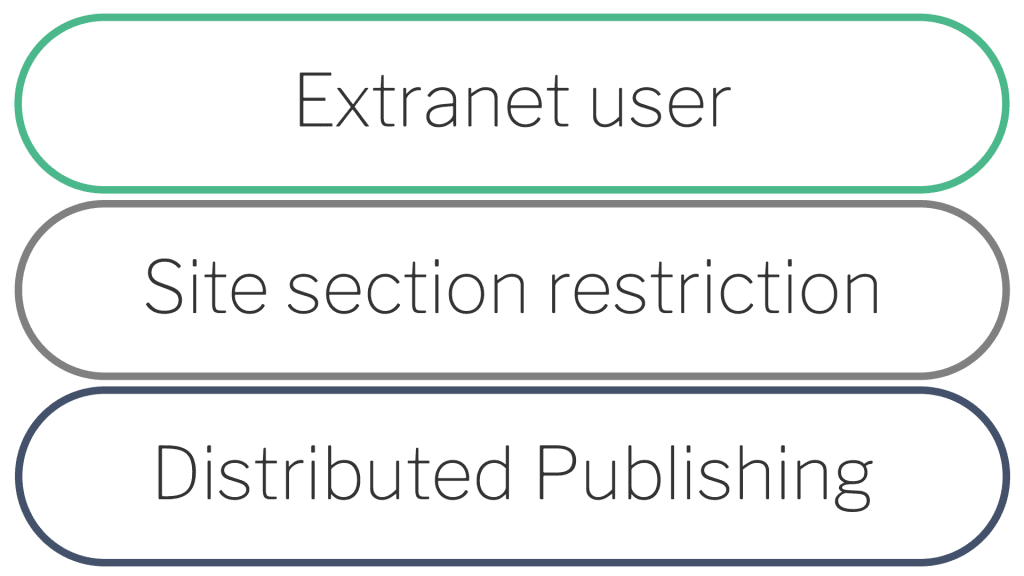 Starting in 2017 we began developing a distributed publishing feature to allow a small team of 1-40 central administrators to distribute editing permissions for each area of the intranet to a larger group of users (100+), who could then cascade permissions for sub-sections to the entire business (1000+).
This immediately relieved the pressure on central administrators to manage permissions across thousands of users, especially if many of those users are regularly leaving or joining the organisation.
Next, we recognised the need to develop a way of creating 'Chinese walls' in the enterprise, for when specific teams need to keep some information private (such as work on a prospective commercially sensitive account that is not yet ready to share with the wider business). To meet this need, we created 'restricted site sections' that are only visible to those users who are members of the section or a parent in the hierarchy.
Having reached this stage we thought the work was done; however, with one of our customers requiring limited access to their intranet for millions of their members, and others needing the same access for thousands of users at third-party agencies, we realised the need for a special user role – the 'extranet user'. This user starts with very limited access and can then be escalated to have access to the full suite of tools within their Invotra intranet.
Altogether this formed the Invotra Portal and has been incredibly successful in allowing our enterprise customers to evolve their businesses.
If you would like to learn more about Invotra Portal, click here. Or, if you would like to read more about what makes it secure, here is an insightful blog by our DevOps/Security Analyst, Chelsea Cadd.