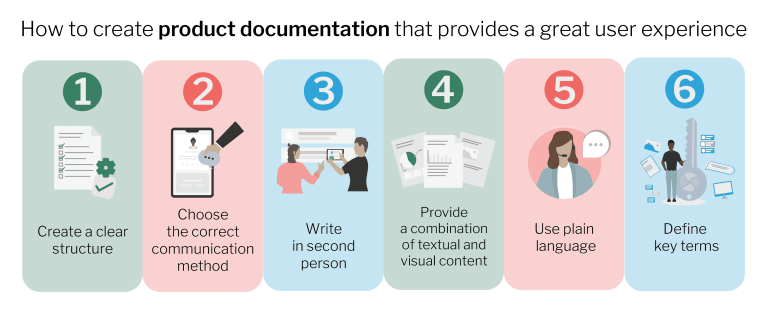 Alongside a great product, well-crafted product documentation is a must to provide a fantastic user experience. It speaks to your customers on your behalf so it plays a huge role in representing your product.
Product documentation is essential for several reasons:
A potential customer may be deciding on which product to purchase. In this case they are more likely to spend time researching how to use the product independently rather than contacting the vendors
Customers who are users of the product may want to refresh their memory on a specific feature
Customers may want to resolve a specific problem that they may be having
In all the above scenarios, product documentation is likely to heavily influence a customer's decision about whether your product is fit for their needs. How do you ensure that you provide great product documentation? Here are some helpful tips to get you started:
1. Create a clear structure
To ensure you have covered all the key information on a particular topic in a clear and organised method, create a structure that is used throughout. This will help customers when they are looking for specific information as they will know exactly where to look. From scanning for some background information on a specific topic or searching for steps on how to carry out a task, they need to know which heading to look under.
2. Choose the correct communication method
The purpose of product documentation is to provide users with different forms of guidance, whether that is some specific background knowledge on a subject, steps on how to complete a task, definitions of key words or to answer frequently asked questions. Therefore, select the most appropriate method to communicate this information so think about whether it should be available in the Q&A section, glossary section, documentation section or in another format.
3. Write in the second person
Writing in second person allows you to speak directly with your reader as well as allowing the reader to experience the steps in real time. Write as if you are an expert guiding them through the process, 1:1 with your user.
4. Provide a combination of textual and visual content
Research, including from a report by Bobek et al.2016, has shown that users tend to absorb and understand information faster when information is presented textually as well as visually. Conveying information in a variety of media, including visual representations, will give your users a much clearer understanding of the functionality of your product.
Reading something that is hard to understand can easily frustrate anyone.The average adult reading age in the UK is 9 years old, so it is very important to use simple language so that even the most complex concepts can be understood easily by the customers. Keeping it simple and clear will allow customers to become more confident with the product. Have a look at AbilityNet for more advice on writing accessible content.
Language used by professionals is not always easily understood by novices. Don't assume that customers can easily understand the meaning of key terms so make sure that any uses are clearly defined.

High quality product documentation is produced as a result of an effective plan of action. Take note of the best practices above and begin writing!