In celebration of International Women's Day, I had the pleasure of interviewing Justine Young, Intranet Webmaster and Project Lead at Stevenage Borough Council (SBC).
Justine was initially brought on to the SBC intranet project to rebuild their content, but quickly became pivotal in shaping its function, features and aesthetic. Having developed her career in the areas of Digital Marketing, Justine largely focuses on digital content and internal communications.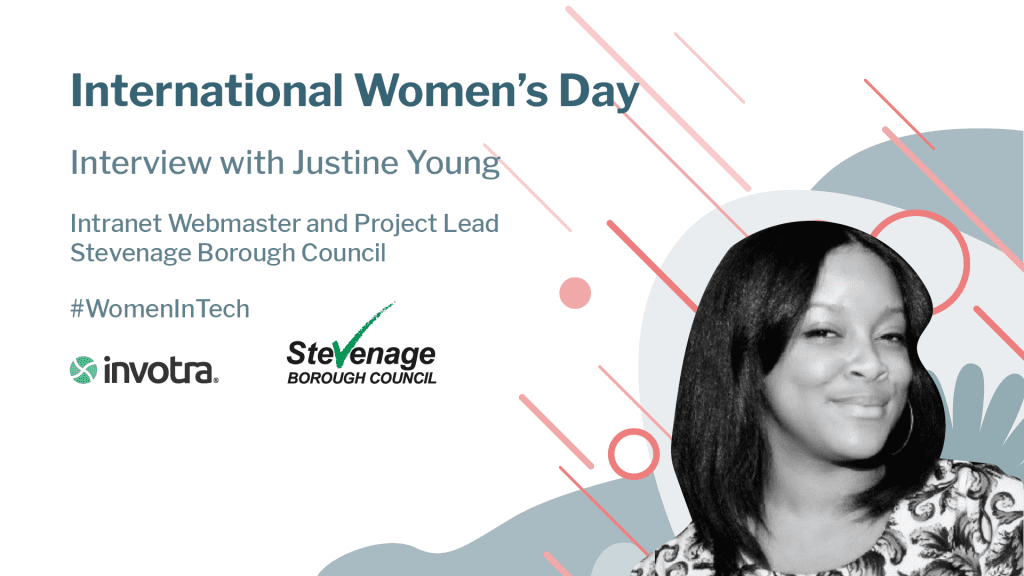 What does a typical day look like for you at Stevenage Borough Council?
First things first, I'll check my emails!

At the start of the week, I'll have a meeting with the Comms team to see what news needs to pushed out. Then I switch over and look at our key project milestones that need to be done and communicate that information out to key stakeholders.

At the minute, I am loosely drafting a digital workplace strategy and I'm also working on a report to take to our senior leadership team which involves a whole heap of variables. I also do plenty of reports on our analytics, looking at how people are using the intranet and how effective areas are.

Often in my role, I put together training for our staff which includes running engagement sessions.

Another thing I spend a lot of time on is putting things in place to communicate with East Herts Council as we share a lot of services and work together in a similar way. We do a lot of knowledge transfer and sharing.
Did you always know you were going to work in technology?
No, not at all. I wanted to lots of things when I left university, one of which was being a film director/critic! At one point I also wanted to set up my own magazine.

Generally, I didn't imagine that I would end up in a technology related career. I was far from 'techy' and in some ways, I still am.
How did it come about that you decided to enter a technical role?
My background is digital content, social media, brand identity and that sort of thing.

I've always been really creative, so it suited me sitting on the webteam in my previous role working for a clothing company as a content creator and general ideas person. I started on the blogs and then was promoted and got more involved in social media, growing from there.

Following this, the opportunity at SBC arose and I got to flex my muscles and surprised myself in terms of what I could obtain and achieve. Initially, there was some doubt because I don't come from a very technical background but it just goes to show that you can do anything that you put your mind to.

It's great that I was offered the opportunity to get involved in the actual shaping of the technology and product. The council needed some help in this area and I'm thriving!

Within the technical industry, some women feel, or have felt, that their gender has impacted the way that they are looked upon or treated. Have you ever felt this way in your work and if so how did you handle this?
Not where I am currently, I'm pretty much treated as an intranet expert!

However, In my previous role, I found that being involved in digital discussions with an IT team which was a predominantly male, often your thoughts on anything that you raise, especially without using technical terms, you can being slightly marginalised.

Occasionally, you might mind find yourself being spoken to in a certain way or being referred to as 'Sweetheart', things like that.

I do feel that especially in meetings if there's a woman present, a look of surprise and shock is sometimes apparent. I'm not sure if it's because of the stereotype of being a woman but it shouldn't be the case that often you feel like you have something to prove.

But for me, instead of being intimidated, I will speak when I have a valid point and exert myself to be heard.
What would you say is one of the great things about being a woman in tech?
For me, personally, I do get a little bit of a buzz and a kick out of sitting in a male-dominated meeting, to be able to hold your own in those male-dominated areas.

It's great to see women in tech being pushed on outlets such as social media. It's encouraging for the younger generation to see more stories surrounding women in tech and seeing more female faces succeeding in the industry.
Would you say there is a distinct lack of women in the technical industry, if so, why do you think this is?
Perhaps maybe at a senior level.

I know for example at this council, we have a great number of women working in technical areas. However, in many other organisations there aren't enough women at senior/board level.

Looking back at other companies I've worked at, sometimes there hasn't been any women in the IT teams at all.

I think there's a number of issues – perhaps sometimes women are overlooked by men.

There might sometimes be a bias by some employers as tech is considered a male dominated area.

But there are many reasons. Maybe women are pushed or guided into other areas at university, for example. However, it could be down to parenting, upbringing and general avenues that you take in your early life.

What advice would you give to a woman who is looking to move into tech?

Just to stand your ground. Be confident, know your stuff and believe in your capabilities.
Don't be intimidated by others. Try and get a buzz out of the fact you're pioneering your own advancement. Stand up and be heard, don't fade into the background.
Most importantly, brush up on your skills and always self-develop. Tech is always evolving and aim to be 10 steps ahead of the game! This applies to both men and women but it's still a great tip!
Any final thoughts?
When I was first approached to do this interview, I sort of thought 'am I a woman in tech'?

But, yes, I am!

It made me think about the fact that sometimes there is emphasis on 'women in tech' meaning being in job roles such as hard coding.

Some people might actually look down on women who don't do the so 'hard core' techy jobs, which I have felt in the past.

I think inclusion, encouragement and supporting women at all levels in the tech industry to learn, grow and not sell themselves short is so important.