At Invotra we understand the difficulties faced in managing your intranet presentation, particularly for large organisations. You have a vast array of content and a diverse range of users to accommodate within one environment, which when combined with the constant need to refresh the user experience can be, in many cases, highly difficult.
Ensuring that your intranet fits with your organisational identity and enhances user experience necessitates that you find the right balance between corporate and social.
Our social intranet features allow you to maintain the appearance of your intranet with flexible layout control, improving user experience and simplifying information architecture.
Ensure your presentation management is up to date and appealing with our three key elements; widgets, layouts and pane styles, and utilise our in-place editor (IPE) to make maintaining the appearance of your intranet easier than ever.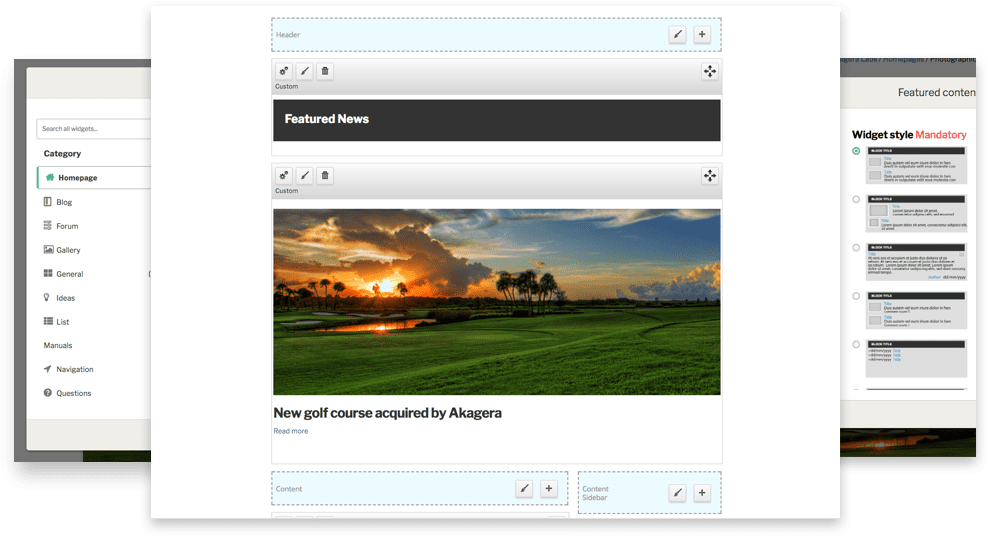 Whatever the structure of your intranet, intuitive, common-sense menus are needed to ensure your employees can find what they need quickly and efficiently. Invotra offers a simple drag and drop menu building system for the intranet manager, and navigation menus can be adapted to suit the growing needs of your organisation.
Content authors can choose from over 30-page layout types, ensuring the design of the page suits the content, or use our out-of-the-box bank of over 60 widgets which can be dropped into any page layout to provide huge flexibility whilst maintaining a consistent intranet experience.
Distributed publishing –
Distributed Publishing enables the delegation of publishing responsibility across your organisation. Author, editor and publisher permissions cascade throughout your organisation from your onboarding team to individual section owners.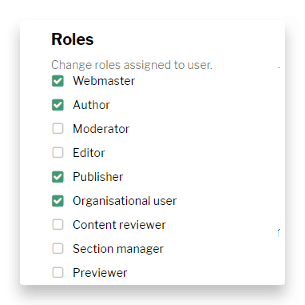 We understand that especially in larger organisations, populating and managing the intranet can be a huge task due to the number of users, this function allows you to ensure that you have a team of people across your organisation who can update the intranet and ensure that all pages are well-populated with relevant, accurate content.
Widget branding –
Widgets act as a bridge between someone creating a piece of content, and it being displayed on the page as an attractive feature that people want to read, and that is easily accessible. They are the building blocks that allow you to put pages together and it is imperative that they are flexible enough to meet your organisation's vast array of needs.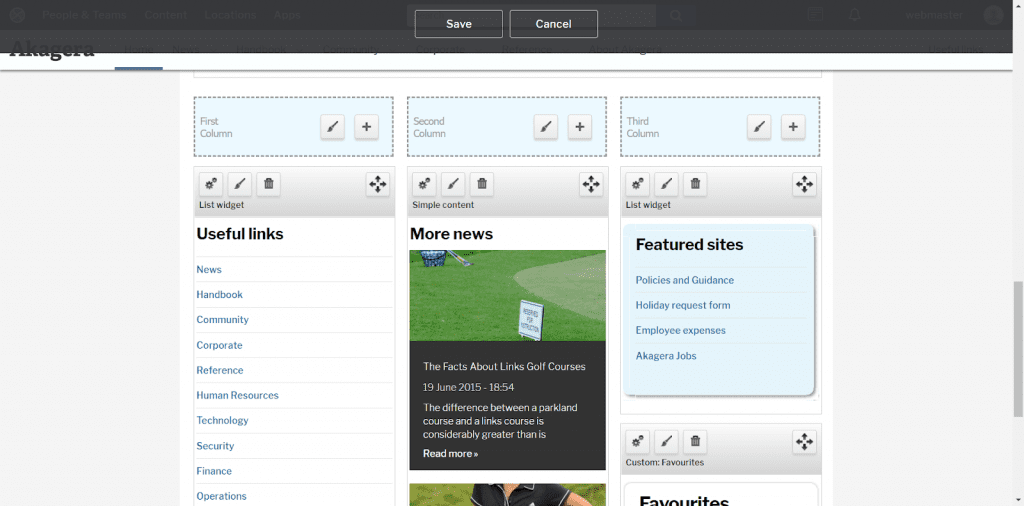 Our widgets control the content in the site and give you the ability to customise your display and personalise content which makes your user experience more relevant, therefore enhancing engagement.
Content types –
In order for your organisation to run efficiently, it needs to be able to categorise and organise its information, you need different content types in order to ensure that the information functions properly, and is accessible throughout your organisation.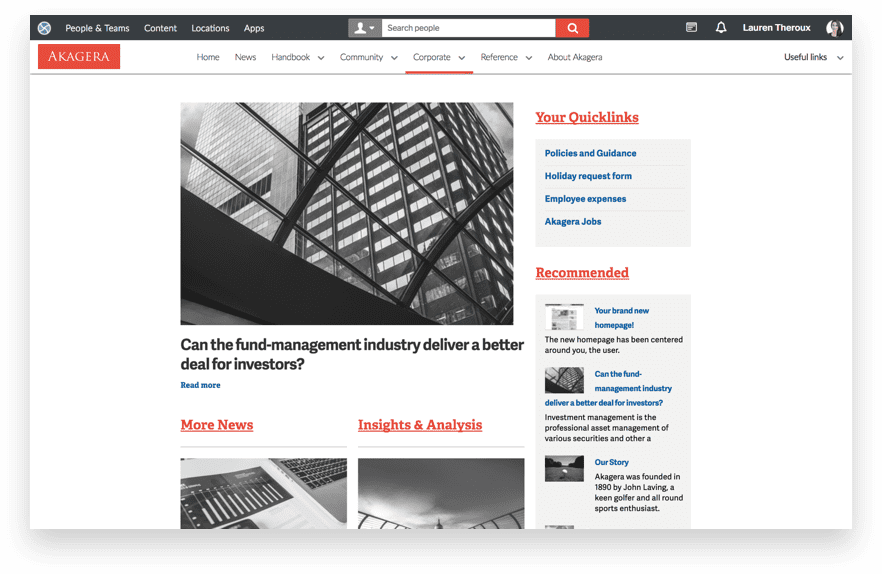 Our intranet offers multiple content types to meet your organisation's publication needs. Our various content types include news, general information pages, manuals, forms, multi-media, lists, promotional content, policies and the ability to create your own content types.
Page layouts –
One of the most obvious, yet most overlooked features of intranet presentation is the page layouts. Information needs to be structured in an easy-to-interpret, attractive way in order for your users to be able to efficiently use it. We identified this need and have developed a highly customisable set of page layouts, allowing you the ability to design the intranet your organisation needs.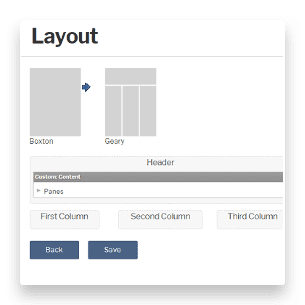 Retain your organisational identity by using our completely customisable page layouts and achieve the right look and feel for your intranet.
Here at Invotra, we believe that the social features our product offers put us in a league of our own, and our customers agree. One such customer received over 2500 comments on one single post, and this huge engagement from the workforce drove change within the decisions of upper management. So, contact us today and see just how much Invotra can benefit your organisation.