We released Invotra 4.29 on Wednesday 27th March 2019.
In this release we have worked to improve our user searches, making it easier for publishing teams and site managers to find and view users when assigning content and roles to them. Additionally we have worked to improve our accessibility across site pages. We also included tasks to fix bugs and make operational improvements.
Entity reference search updated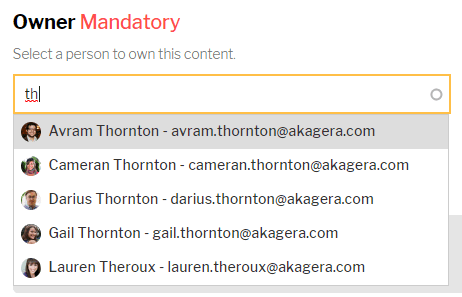 We improved the user experience for publishers when referencing people, within the owner field on content. Owners can now be found in the search field by entering first name, last name, and email address. 
Exact name matches on user management introduced

We have made it easier to find users on the user management page by updating the search filter so that if a full name is entered only an exact match will be given, if found. If part of a name or email address is entered, all possible results will still be shown.
Placeholder for group post field updated to encourage @mentions

We responded to analytics which revealed low usage of the @mentions feature. In order to promote the feature we have updated the group post placeholder text within group posts to read 'Share posts and @mention others in your group…'.
Update profile heading structure.
We have updated the heading structure on profile pages and activity feed pages so that it is easier for people to navigate who are using assistive software, such as screen readers.
Release summary
Here's a breakdown of the release in numbers:
Bugs squashed: 22
New features and improvements: 6
Security fixes: 4
Internal tasks: 6
Check out the official 4.29 release note for full details of the release.