We released Invotra 4.37 on Wednesday 31st July 2019
In this release…
– We enhanced the capabilities of our Portal functionality
– We updated the order of autocomplete search results
– We enhanced user experience of our widget settings and display
– We added API endpoints
Portal project
To ensure users are made aware of the impacts of adding external users and what content those users will have access to, we have added a warning message. The message will appear which displays the user who has been granted access and will list which content is now available to them.

API endpoints added
We have now created the following additional API endpoints:
Grades, Organisation, Skills, Badges, Free Skills, Personal Interests, Titles, Person Types, User Category, Custom Content Types, General Topic, Content Category, Policy Types, Primary Category, Projects, Security Classifications, Search Highlights, Regions, Countries, Group Category, Message Types, Event Topics, Event Statuses, Idea Category, Query Category.
It is now possible to use the Invotra API to create, read and analyse, or delete all of the above.
Read more teaser option and link removed
The removal of this redundant link improves user experience adn improves accessibility of the site by de-cluttering the widget options and help clean the visual display of widgets.
Update specific section field to HDD
As an additional user experience improvement to our widget options, we have updated the specific section field within the widget settings. Site section options are now displayed within a hierachical drop down, allowing for much simpler and faster selection of the required site section.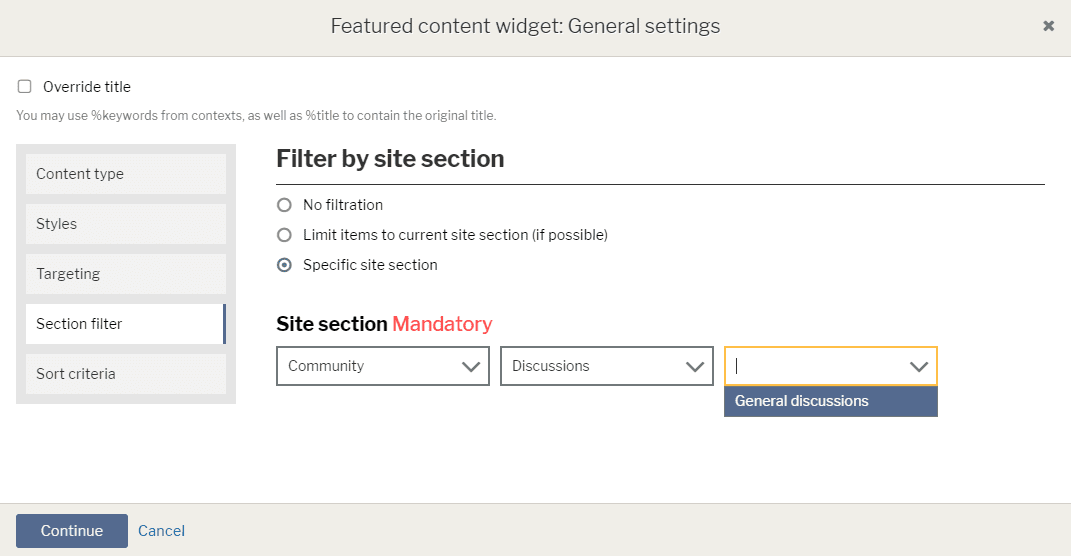 Updated user autocomplete fields sort by relevance
To improve the user experience of our autocomplete search feature, we have updated settings so that results are now displayed with bias on the first name of the results. Searching a term in the user autocomplete fields now returns a matching forename above a matching surname.
Release summary
Here's a breakdown of the release in numbers:
Projects: 1
Bugs squashed: 31
New features and improvements: 6
Security fixes: 0
Internal tasks: 6
Check out the official 4.37 release note for full details of the release.