On Tuesday, 5 May, we officially released Invotra 5.0 and delivered a 6-month long project that brings about the redesign and reconfiguration of 90+ pages and 160 components in the product.
Shaped by years of feedback and collaboration with customers, Invotra 5.0 marks the launch of a new and uplifting experience for all of our users.
Part of Invotra's transformation includes the adoption of Material Design.
Google's design system, Material, was chosen to help establish a visual clarity and content hierarchy that's approachable, friendly and above all, proven.
Create easy to use and fully accessible components and layouts that guide and inspire good design.

Analyse and evolve a customisable experience that is capable of advancing modern productivity.

Develop intuitive and engaging content to connect thousands of people within a single enterprise.
When work is fractured like never before, people need information and collaboration to be more joined up than ever before. Invotra 5.0 connects users to what they need to get work done, now and in the future.
The bigger changes in a little more detail
Introducing the Invotra workbar
Visually, everything changes, but when you first login to 5.0 the most noticeable difference is the workbar. That is, the navigation along the top of the screen.

Depending on your role and permissions, you'll see 6 or 8 icons.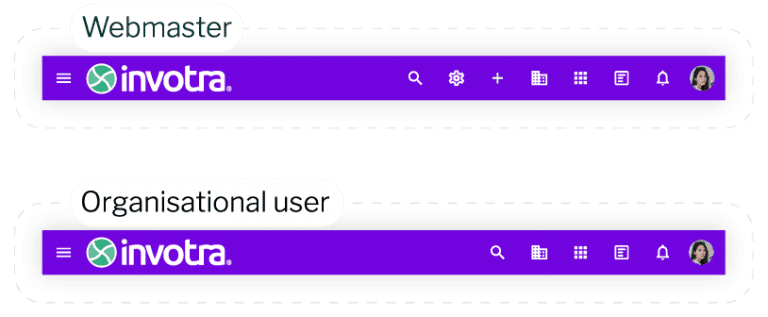 The workbar is ever-present; designed so you can get to the information and people you need no matter what's happening. Hover over each icon and you'll reveal what each icon is and does, whether it's the directory, apps or feed.

We expect users who already work with Invotra to reorient themselves without too much trouble. However, should you have an issue, please check out our free online resource — Developer. Alternatively, contact our customer success team.
Finding better results in search
As you might imagine, search is one of the most important and used features in our product. In 5.0, when you select the search icon, a search bar takes over from the workbar to reduce cognitive load and increase focus on results.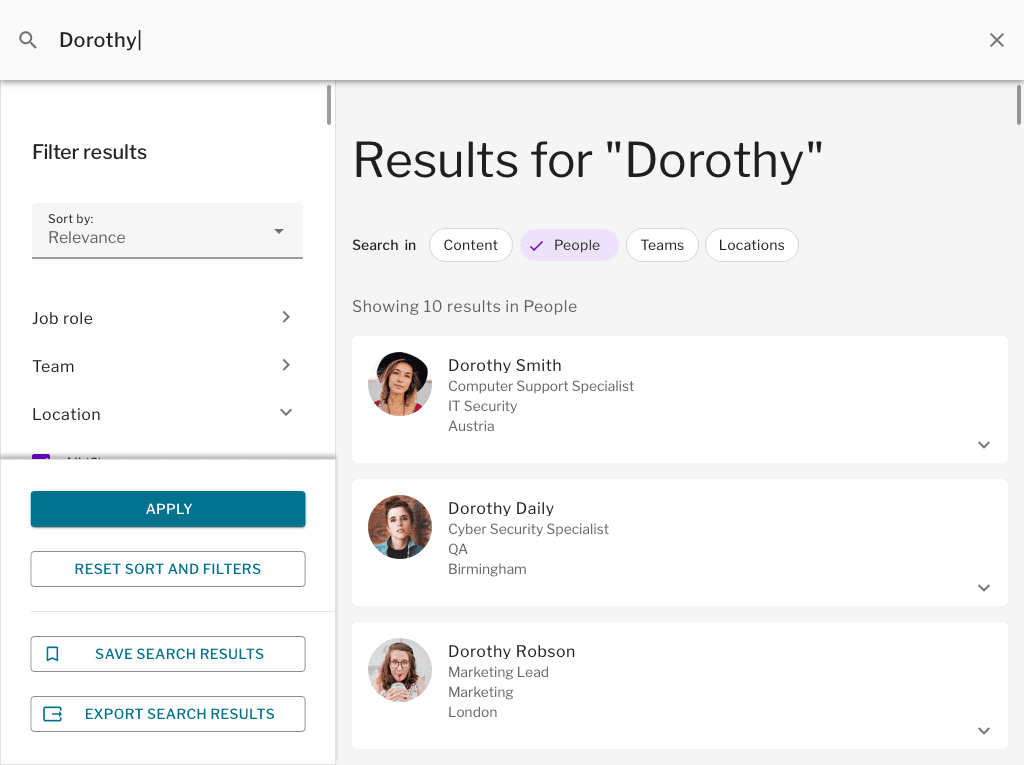 Results are categorised into content, people, teams and locations as before, but everything is clearer and more spaced out. Search is still totally customisable, but now more manageable due to the addition of 'Apply' and 'Reset' buttons.
You also have the option to 'Show more' or 'Show less' in results. This reveals the section, content type and breadcrumb of the result, along with other details depending on the search category; confirming it's the result you want or not.

With search: titles, summaries and body copy are what count. The terms that trigger results will be emboldened for users. We encourage content creators to ensure these fields are accurate and tested. See Developer guidance on search.
Naturally, you'll be drawn to your profile image in the top right of the screen. We've removed the username to tidy up the workbar and reshuffled what you can access from your profile menu.

To access your profile, you simply select 'View profile' from your profile menu. An example of making the user experience clearer and obvious wherever we can. Previously, a user had to select their name.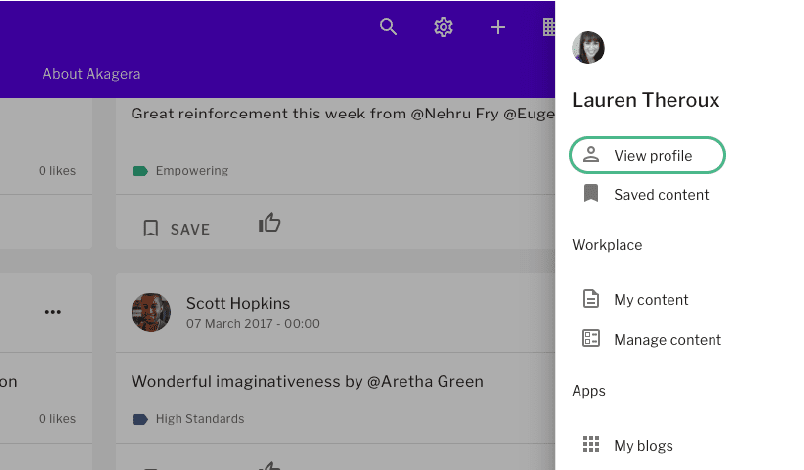 The list of links in the profile menu has been re-prioritised. 'Saved content' moves up following customer feedback highlighting a need for quicker access to frequently visited pages, as well as those to return to later.

Workplace leapfrogs apps too. If you're a publisher, you'll see My content and Manage content, whereas if you're an organisational user, you'll only see My content. We'll talk more about these new areas next.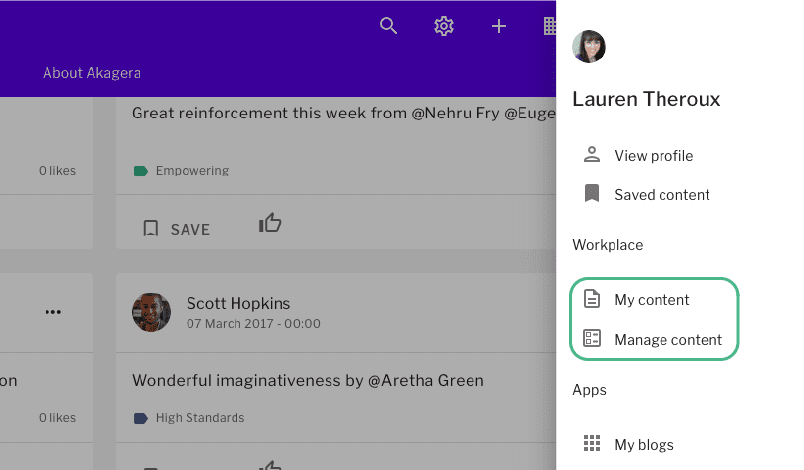 Apps have been thinned out, and you can jump into your groups, messages and blogs without having to go through app landing pages from the workbar. It's quicker, it's clearer and it will be further refined in the future releases this year.
The workplace has changed
Workplace previously incorporated feed, notifications, my content and all content (manage content). In 5.0, feed and notifications are separate so users can now focus on their content and the content they manage as publishers.
My content is solely concerned with a user's activity. Whether you're saving content, creating your own content, following people or content, or interacting with content with comments and ratings. Your dashboard highlights the numbers to give you an instant count of what's going on where.
If you find yourself with a few zeros, you'll be prompted as to why activity in these areas can be useful to improve your all-round experience on the intranet. They're also a useful reminder of what's possible with the information on your intranet.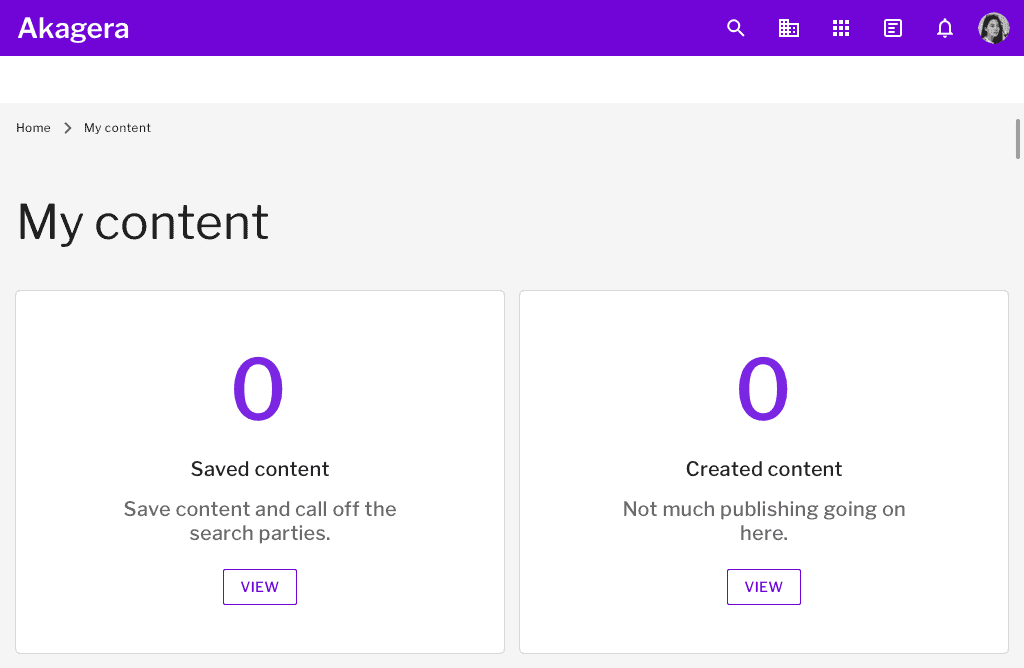 Manage content is where creators and managers go to access their workflow, moderate comments and content, as well as manage files.

You can choose to show or hide filters on the left hand side and access each category using the local tabs below the workbar. It's been designed to increase the amount of space for users to find and focus on what they're looking for.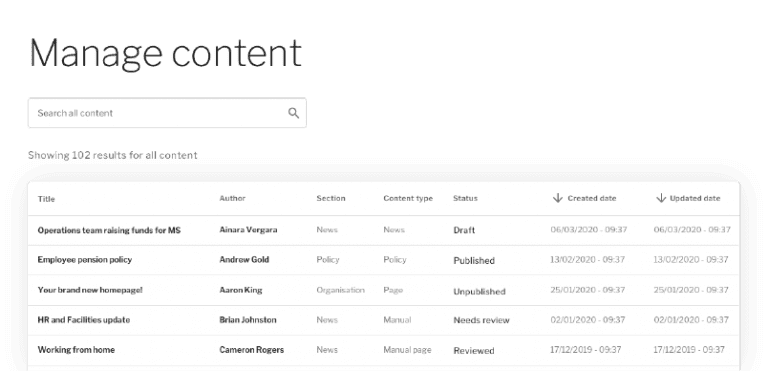 There might be 100s or 1,000s of content types to search through, with a big decision to be made when you do find your content. Manage content brings clarity to help improve decision making and collaboration in the product.
Fluid and flexible layouts
Invotra screens such as directory, search, my content, app landing pages, etc., all now adopt a fluid layout. That means they will expand to 1,440 pixels.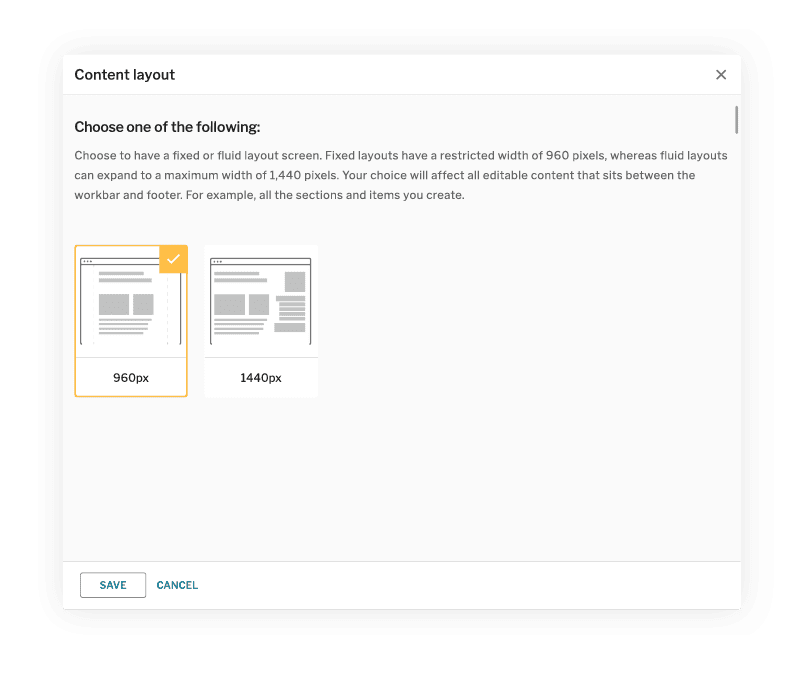 Now when users create their screens, sections and items, you'll be given the option to have a fluid or fixed layout. A fixed layout only expands to 960 pixels.
Setting a preference for layouts helps to ensure the quality of your designs and content output, while complementing an enterprise's individual IT capacity.
Clear and obvious quality
We've been driven throughout this project to deliver an experience that's clear and obvious for every user.

Wherever you go in 5.0, you'll see a reduction and simplification in design that sets the standard for all future product development.

We've strived to create the best conditions for professionals to do their best work. To continue to be an enterprise's source of secure, stable and structured information. And when it comes to collaboration – open, engaging and inspiring.

Above all, Invotra 5.0 is for everyone.

It's what people need to keep on working and what an enterprise needs to keep on growing.