On Friday 13th December, we had the pleasure of hosting some wonderful volunteers from Guide Dogs – Gulcem, Vanessa and Liz, and their amazing pups in training, Tamzin and Lolly.
With our dedication to accessibility in mind, it made perfect sense for all of us here at Invotra that when choosing a charity to donate to this year, the Guide Dogs for the Blind Association was a great choice.
For every Christmas card given out by Invotra this year, we have donated £1 to Guide Dogs. We are extremely proud to be supporting a charity that changes the lives of so many people each and every day.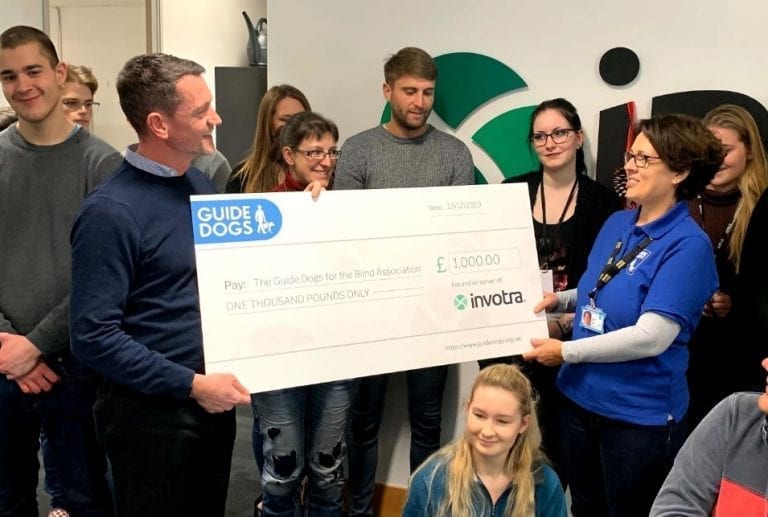 Guide Dogs exists to provide life-changing services to the 360,000 people who are registered blind or partially sighted, and the two million people in the UK living with sight loss
They are responsible for roughly 8,000 dogs and the money that they raise goes to:
– Training and providing guide dogs
– Promoting the inclusion of audio-visual equipment on buses
– Equal access to taxis
– Encouraging service providers (such as shops, restaurants and banks) to provide a level of access and service that meets the needs of blind and partially sighted people

Guide Dogs is volunteer-led, meaning that the donations they receive are so important to supporting the organisation to keep on doing their amazing work. 
Experiencing Invotra's 'enABLE' accessibility lab...
We do everything we can to ensure that we provide an accessible product, from conception to delivery.
Invotra has a dedicated Accessibility Product Manager, Andrew Doyle, and our very own 'enABLE' Lab, located at our Woking office. The purpose of the enABLE Lab is to create an environment in which we are able to provide our workforce (and any other interested parties) an environment in which we can continue to align and educate ourselves on the importance of accessibility. 
It was our pleasure to show Liz and Gulcem the lab and to walk them through what it's like to navigate Invotra using accessible software. Their positive feedback meant a lot to us with accessibility being so close to their hearts.