A play on Invotra's process, you know, to make it more digestible! (excuse the pun)
The Menu (Demonstration) – The Invotra burger has gripped your gaze on the menu, you are intrigued by the illustrious ingredients and your nose has captured the delectable scent of Invotra burgers being sent out the kitchen. You've fully evaluated the visual demonstration and the waiter has recommended your decision. You're ready to order.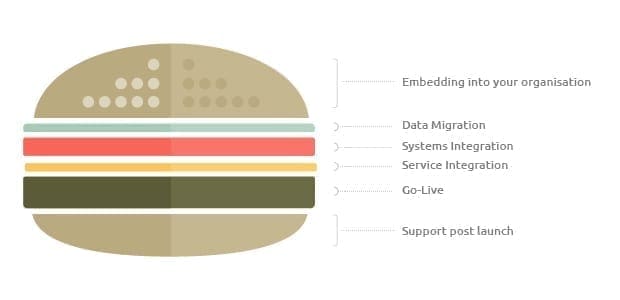 Taster (Pilots /Proof of Concept) – You might have specific requirements that match your tastes or hunger needs and want to make sure they are satisfied as best as possible. The waiter brings out a taster to ensure the correct additives and sauces have been considered and added appropriately.
Side orders (Connecting to other Information Sources / Systems) – The Invotra burger is designed to be flexible and integrate into even the most complex or tricky additions. Or we work with you to create one that compliments your needs.
Top bun (Embedding it into your organisation) – The top bun keeps a lid on all those appetizing ingredients. Encouraging end users by its golden brown, seeded surface, we provide on-going training and encouragement. Working with you regarding training and implementation support in order to facilitate the level of engagement required for a successful transition.
Sauce (Data Migration) – …Invotra's special burger sauce. We have real expertise in this critical area. Our team work alongside you to ensure a smooth migration, we don't just slap it on the side. Seamless migration is key to the full flavour you experience.
Salad (Systems Integration) – Healthy systems integration. Fitting into a technical environment and working seamlessly with the other ingredients that exist.
Invotra Process Burger Layers
Cheese (Service Integration) – The right cheese can make or break the burger, working with your service desk and support function to align to service models and have a smooth process for incident management.
The meat! (Go-Live) – Everyone's favourite bit and quite frankly the burger is nothing without it. The true test of how everything will work, working extensively with your team to ensure the meat is cooked to your desire, well-done, medium or rare with the right resources and support ready for the first crucial bite to ensure a smooth experience.
Bottom bun (Support post-launch) – The bottom buns play a crucial component to all the above. Supporting the above components of Invotra's burger. With its own UK based help desk and dedicated support leads. In addition, an incredibly detailed Help Site. The service & expertise we provide include a fully managed, hosted environment, designed to handle all issues around upgrades, security updates, help desk, architectural advice, and integration expertise – all for a tidy user fee per month.