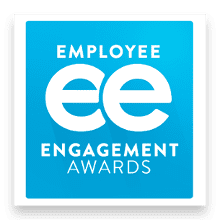 The Employee Engagement Awards (EEA) are about 'recognising the forward-thinking businesses that strive to do things differently and put their workforce at the heart of its operation'.
We're very pleased to say that we have three finalists places. We beat tough competition from major brands and enterprise organisations to be shortlisted.
This is the second time our project for the Home office has been shortlisted for an award. Earlier this year they were runner-up in the Digital Leaders 100 for Best Central Government Digital Transformation Team or Project for their implementation of Invotra.
Invotra supported Home Office Technology to replace an outdated and fragile proprietary intranet that was risky to support and expensive to maintain. The Intranet wasn't being used internally, as it had become difficult to publish communications the way they wanted.
The new Digital Workspace is a completely different animal. It adheres to an Open Standards based SaaS cloud service, built on Open Source technologies. Content Editors can create and publish material with greater agility. The control was given back to the Internal Communications team, which was the main aim. Achieving better employee engagement throughout the 28,000 users across different locations.
This time Home Office Technology has been shortlisted in the Employee Engagement Awards for the Best use of Technology in Employee Engagement & Employee Engagement Project of the Year (Public Sector). Finalists in their category are the NHS, Lloyds, Virgin Hotels, LV, M&S and Brookfield Multiplex.
In addition to this Invotra themselves have been shortlisted for the Employee Engagement Project of the Year (Private Sector – Small). We've been recognised for practising what we preach, using our Digital Workspace to engage staff and collaborate but also realising that it's not all about digital. Our multifaceted approach has been recognised as forward-thinking for an SME.
The actual awards night looks to be a glamorous affair with a gala dinner, live music and the comedian and writer, Danny Wallace hosting the evening at The Brewery, London.