At Invotra, communication is a key part of what we do, we understand that the ability to organise, categorise and moderate your organisation's communication is paramount to business performance. This is why our intranet product is packed with social features to help you foster collaboration and engage your workforce.
Short communications – Message wall
Message wall is an application that allows everyone in an organisation to be heard. It is immediate, simple and efficient. Created with the intention of enabling you to send short and to the point personalised messages. For example, share congratulations, wish someone a happy birthday or say thank you. Demonstrate how little things can make a difference in your workplace.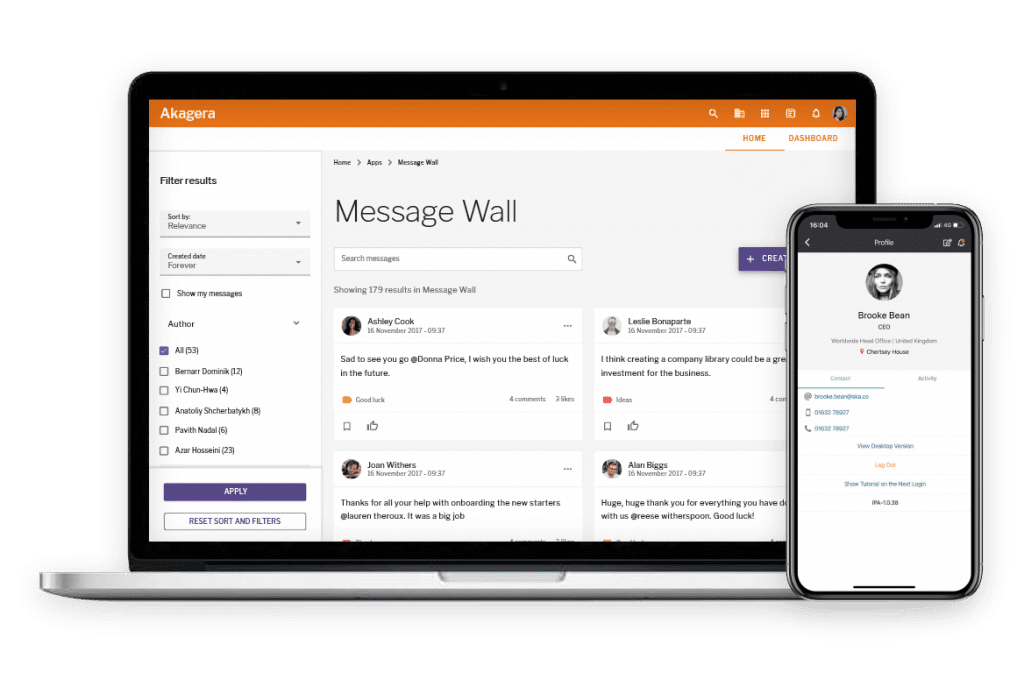 The message wall dashboard allows users to share micro-news and see the most popular message types, best contributors and most mentioned users and hashtags.
Messages are categorised, with the freedom for your organisation to decide how to break these down, this allows you to decide which type of messages you want individual users to be able to post, with the ability for messages to be moderated both before and after they are posted.
You can also like, rate and comment on messages, even adding hashtags or @mentioning to further specify the type of user who will see a particular piece of content. @mentioning allows you to notify specific colleagues about a piece of content, which combined with the like, rate and comment features allows you to create a truly engaged workforce.
Long communications – Blogs
Blogs are a tried-and-tested way to engage with your workforce community, allowing you to communicate personal thoughts on a subject or general information about a specific topic.
With Invotra, you can control the stream of blogs separately from your general intranet content publishing, using the Invotra Blogger role. Communication can be restricted to a group of key contributors or organisation wide, allowing informal collaboration outside of regular teams and hierarchies.
Blogs create an informal way to communicate the wealth of knowledge and information within your workforce, and as with all our social apps, you can be confident content is up to date and appropriate with moderation and review features available both before and after a blog is posted.
Of course big blocks of text can be daunting and this is why we added the ability to break up big blogs with media, adding a new dimension to your organisation's informal communications. Users can rate or like blogs, or add comments and opinions, which bloggers can reply to on their posts, creating organisation-wide conversations and further nurturing collaboration and engagement within your workforce.
Collaborative communications – Groups
Invotra groups gives your users the power to create self-organising conversations within your digital workplace, freeing them to work together, solving problems and collaborating across departments.It opens up new avenues of collaboration and encourages discussions with the group wall.
Invotra group docs also allows users to collaborate on content within the group, allowing you to increase your workforces' efficiency and productivity. By giving you the ability to store all relevant documentation in one place Invotra groups will reduce the amount of time your employees have to spend looking for the information they need, resulting in a more organised workflow.
Furthermore, with the ability to create public, private and secret groups your organisation will have more governance than ever before. Public groups can be seen by anyone within the organisation and their content is public, private groups only permits members to view the content, and secret groups are only searchable to people who are already members. This added control is something we at Invotra feel will become indispensable to ensuring your organisation can run efficiently and securely.
Group wall allows informal conversations to take place on whatever subject your employees want to bring up, and allows users to see the level of engagement within the group; representing engagement by team, location, role or even less structured data such as the most liked content in group posts.
All members can share a post, post a poll or comment on another member's post, and everyone, no matter their permissions can create and share documents within a group they are a part of.
Groups can also be formed by anyone within the organisation and can span multiple departments, this allows your employees to drive their own engagement and the ability to create public (anyone can see the content), private (only members can see the content) and secret (only members can even see the group) groups will ensure that this feature will become indispensable for your organisation.
Here at Invotra, we believe that the social features our product offers put us in a league of our own, and our customers agree. One such customer received over 2500 comments on one single post, and this huge engagement from the workforce drove change within the decisions of upper management. So, contact us today and see just how much Invotra can benefit your organisation.