We have been supporting The Lifeboat Fund for over three years. We're proud of our continuing relationship with the charity and here's the story of how it came about.
The Communications and Public Service Lifeboat Fund (The Lifeboat Fund, for short) is committed to helping the Royal National Lifeboat Institution save lives at sea. The Fund is a public service charity, and proud to be the longest-serving supporter and one of the biggest single contributors to the RNLI (Royal National Lifeboat Institution).
Our introduction came via one of our valued customers, the Home Office, who knew of our experience with Drupal which was what the original Lifeboat website was based on.
We were delighted to offer our professional services in a number of ways. Firstly, we agreed to host the website and get involved in improving its functionality. We also formed a project group with interested parties including the charity, Home Office and Ministry of Defence and we suggested we could also improve the design and functionality of the website, which was outdated and unappealing.
We asked what The Lifeboat Fund wanted the site to look like and our creative lead, Brendan Carikas, worked on the design. We cleaned up the existing content but also suggested new applications and better functionality including social collaboration and two-way communication. This enables the public to interact directly on the site and post comments about events, for example. We also introduced counters that demonstrated the number of lives saved.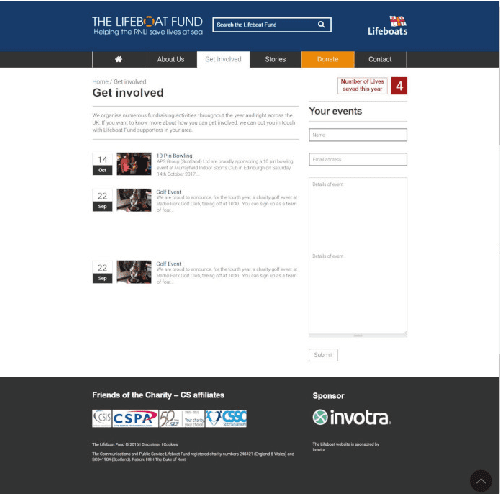 As part of any good onboarding, we trained the charity's employees as webmasters so that they could update the site themselves and easily manage content.
The website is used for campaigning, sharing news and events and is a major part of the organisation's fundraising arsenal. Now the public can easily donate and volunteer online too.
The changes in the website design have transformed the charity's site traffic which was low (less than 50 visits a month) to thousands per month now. The site works effectively and has rich content such as videos.
Today we still help The Lifeboat Fund host and maintain the website behind the scenes and offer our services free of charge. The charity is also part of our Gov.Invotra collaboration portal where we bring together central and local governments to share resources and best practice.
We are pleased to continue this ongoing charitable relationship. The Invotra board is fully supportive of its employees, lead by key accounts manager Jamie Garrett, who are involved with the charity. The sailing bug has also influenced some of our other employees and Invotra is extremely proud of its technical account manager, Ed Ireson, who also volunteers his time to support the RONA sailing project.
For more information on The Lifeboat Fund, click here.