In order for your organisation to run efficiently, your employees need to be able to quickly and intuitively access the information that they need. Therefore, when planning your information architecture, decisions need to be made about which content your employees need fast, simple access to in order to do their jobs. This is in addition to things that you want to be able to bring to their attention, for example, Company news.
This is where our extensive library of widgets steps in, with over 500 possible combinations to choose from.
These combinations include many different types of content such as news, homepage, navigations and search. This customisation allows you to easily prioritise and organise content into what is most important for you and your different types of users.
Widgets act as a bridge between someone creating a piece of content, and it being displayed on the page as an attractive feature that people want to read, and that they can easily access. They are essentially the building blocks which allow you to put pages together by displaying content on the page.
The flexibility that widgets brings to your organisation has huge benefits. Being able to organise and distribute content in a customisable way allows you to increase efficiency within your workforce and ensure that tasks can be completed without the added difficulty of having to locate the relevant content.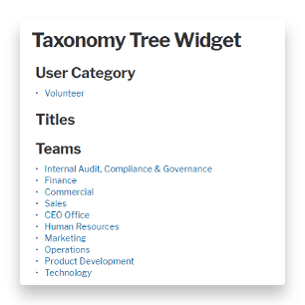 You can configure them to display what you want, how you want, including everything from choosing the title, which content to display and how to display it, how to sort the content, and much more.
Widgets are also scalable as they can be targeted at large audiences, ensuring the right information is seen by the right people. This reduction in noise combined with the responsivity of the widgets (their ability to respond to the different width regions of the page) makes it an invaluable tool for today's intranet manager.
Finally, our widgets (as with everything we do) have been built with security and accessibility in mind from the get-go. They automatically only show content to people who have the correct permissions, and due to accessibility being at the forefront of our minds from conceptualisation to execution, each page you build is lined with accessibility fundamentals.
Here at Invotra, we believe that the social features our product offers put us in a league of our own, and our customers agree. One such customer received over 2500 comments on one single post, and this huge engagement from the workforce drove change within the decisions of upper management. So, contact us today and see just how much Invotra can benefit your organisation.