Sharing knowledge, or knowledge management as it's sometimes known, is an essential part of business operations. It is about the ability to convert raw data into understandable information, and for any organisation, ensuring the right knowledge reaches the right people can be disorganised and poorly managed.
Invotra allows your organisation to catalogue your knowledge in user built or structured taxonomies, using tags to ensure the information is more discoverable.
We also connect business applications and streamline them so they are accessible through one platform, increasing your organisation's productivity.
Detailing profiles and populating them with relevant skills gives people access to a resource that has been previously underutilised, allowing you to gain business intelligence about your workforce and showcase user experience.
Our product allows you to organise and capture one of your most valuable resources, creating and sustaining a competitive advantage and protecting your organisation's intellectual assets from decay.
Invotra Groups
Invotra groups is a highly powerful feature that gives users the power to create conversations that engage the workforce on every hierarchical level.
The ability for your employees to initiate discussions on individual posts using the comment feature is one which has already driven huge change among our existing clients, with one organisation even receiving over 2500 comments on a single post, and this huge engagement from the workforce drove upper management to re-think the decision that the post had detailed.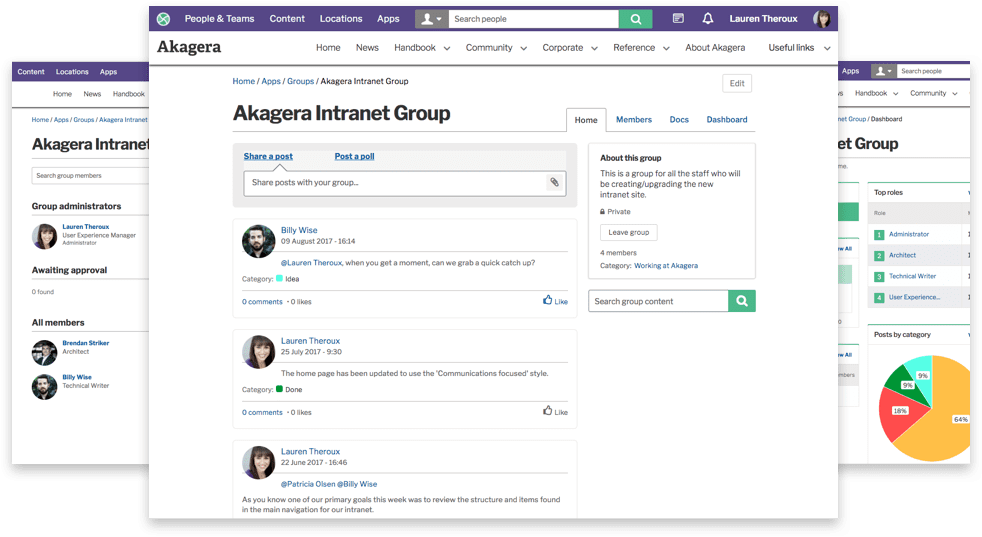 Furthermore, Invotra group docs foster collaboration by storing all relevant documentation within the group, allowing you to increase efficiency, cut red tape and save time on projects.
Invotra Ideas
Invotra ideas is a collaborative way to ensure that your organisation evolves efficiently, by giving all employees the ability to submit ideas. This allows you to create a culture of positive change and power innovation from within your organisation.
Once you have decided to approve ideas, they are published. You can then update the workflow to reflect the status of the idea, for example 'in progress'. Ideas can then be assigned quickly and easily to the relevant people so that they can be transformed from an idea into a reality in the most efficient way.
Once an idea has run its course, you can set the status to closed. Furthermore, you can utilise polls or the comment and like features to involve your workforces' opinions, creating a more engaged and involved workforce.
My Feed
Keep your users up to date with all the latest relevant activities and communications from colleagues, teams and groups, ensuring they can keep up to date on all the many social interactions that take place every day and increasing awareness throughout your organisation.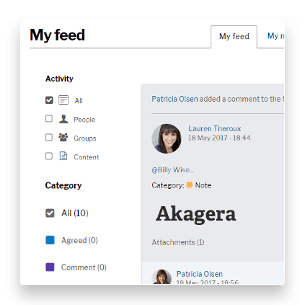 Be reassured that Invotra Feed messages make sure you haven't missed or forgotten any important developments. Feed messages can be configured to let you know when a piece of content is created and published by someone you follow or is in a group you are a member of, each time a comment is added to a piece of content you follow.
Distributed Publishing
Distributed publishing enables the delegation of publishing responsibility across your organisation by creating an information hierarchy that makes sense for your enterprise.
Easily govern permissions using a three-stage review through the cascading author, editor and publisher permissions.
Distributed publishing creates a publishing platform that allows organisations and their publishing teams, greater control over creating, editing and publishing content.
By delegating publishing responsibility you can easily control access to each individual section. Improved, individualised and manageable site section controls will allow organisations to ensure site sections are well populated, content is easy to access and the information is easily kept up to date and relevant.
Distributed publishing allows for vastly increased scalability within organisations and without compromising security. No user has access to any site section that they have not been given permission for, and permissions are fully retractable. So, anyone with the correct role will have the ability to re-assign, or fully remove the role of site section manager at any point.
Invotra People
As we at Invotra know, people sit at the heart of a successful enterprise organisation, and the ability to utilise your workforces' skills and increase knowledge bank through knowledge management is an incredibly vital one to business operations.
Invotra People consists of several taxonomies, people, teams and locations. Each of these separate taxonomies serves to create a highly customisable, scalable service and can all be used to make your searches more specific and tailor the information that is presented to whatever your needs at the time may be.
Webmasters are able to alter and add to individual profiles without having to wait for the individual to make the changes themselves, this is one feature that will make your life easier as an intranet manager.
Invotra Search
Searching by teams or locations breaks down your employee base into a far more easily searchable format.
The ability to view people specific to a team or location increases the ease with which managers can organise their employees; enabling them to perform tasks with higher efficiency.
Our people, teams and locations searches use Apache Solr, which offers full-text and faceted search, and search landing pages for each individual directory.
Major central government departments and thousands of their users rely upon our Invotra intranet and portal services every day. If your current intranet is not fit-for-purpose, get in touch today and ask us for a free assessment and recommendation or click here to book a free demo.