As a local authority, your intranet needs to break down departmental silos in order to improve the way that your organisation collaborates online. At Invotra, we provide regular service reviews and pan-customer meetings in order to bring our customers together to drive efficiencies and help prioritise our roadmap. Through this, we are able to ensure you can keep your focus on cost and resource efficiency while ensuring all of your department's needs are met and levels of security kept high.
Invotra allows you to engage your users by providing them an intuitive, collaborative intranet which offers exciting features to ensure a successful, authority-wide uptake, and as a vendor who has a proven track record in government, Invotra ensures your local authority can trust in our policy compliance and exceptional security at all times.
Local authority employees will find Invotra easy-to-use, offering an intuitive digital workplace which allows those more confident users the control and flexibility they require, while offering a simple and straightforward experience for those who aren't so tech-savvy. In addition to this our ongoing development makes sure your intranet is accessible to a diverse workforce and enables mobile working.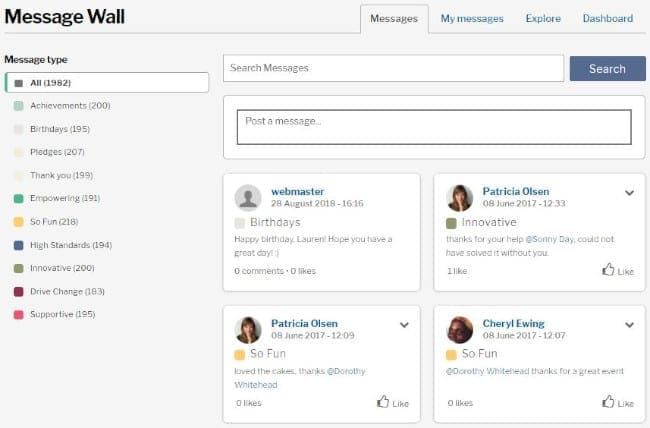 In order to promote both formal and informal internal communication, our features such as Invotra Groups and Invotra Message Wall, break down any barriers to cross-departmental communication. and data migration services, allowing the rapid and cost-efficient replacement of any existing intranet.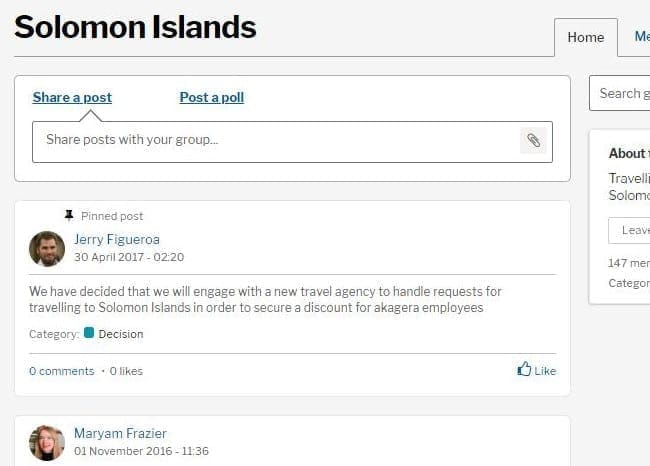 Our intranet enhances productivity and enables evolution, connecting your people, content and things. Our software scales with you, safe in the knowledge we take security and governance seriously.
People –
Our employee directory applications allow you to visibly organise employees and enable users to quickly and effectively communicate across agencies and teams.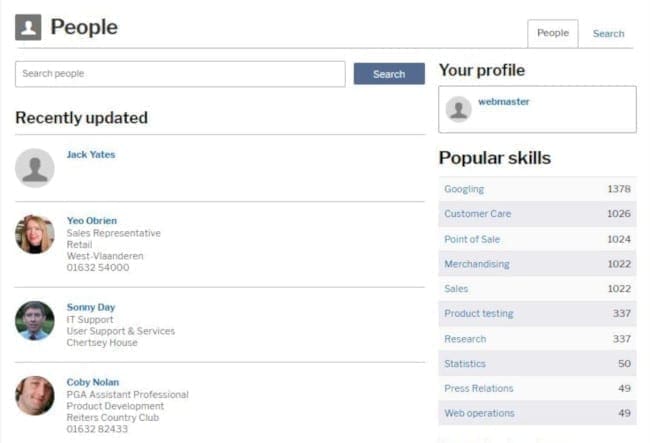 Social –
Encouraging the breaking down of silos, Invotra's enterprise social networking applications, including blogs, groups and our message wall, ensure collaboration and knowledge sharing is part of your organisational culture.
Intranet –
Invotra people plus our suite of easy to use content applications allow you to create engaging, targeted communications to motivate users and save valuable time.
Distributed publishing –
Use Invotra's distributed publishing to effectively share and distribute control over the knowledge in your organisation. By utilising a set of cascading permissions, we ensure that no matter how large your organisation is, keeping each site section well-populated and up to date is a breeze.
Security –
At Invotra we take security very seriously. All members of staff have an ongoing commitment to ensure that, as an organisation, we adhere to industry best practice and international standards set out by the international organisation for standardisation.
Extranet –
Extend your user base and reach out to contacts beyond your local authority with our extranet options. Build and sustain lasting relationships with external third-parties in a secure, moderated environment.
Major central government departments and thousands of their users rely upon our Invotra intranet and portal services every day. If your current intranet is not fit-for-purpose, get in touch today and ask us for a free assessment and recommendation or click here to book a free demo.