As you may know, I'm a big fan of social networks.
Online, in a professional and personal sense (although for me the lines are continuing to blur), from an Enterprise Social Network perspective, and offline – whether it's a meetup, tweetup or conference!
It's a subject dear to my heart, and I've written before about how I originally met the Invotra team at one of their ace meetup sessions at the IoD a couple of years ago now. I was working on a Sharepoint intranet rollout project, and I was looking for other people to talk to about how to make things better. I went looking online for somewhere I could share my successes (but, realistically, the frustrations I had both in my project and product) and found their digital workspace group.
Managing intranets, as with many roles, can be a lonely job. It's one of those areas that rarely has its own dedicated team (I've been in an entire "department" on my own before). I've found that the intranet community in particular is really supportive – everyone has a common goal (to make things better) and that isn't usually in direct competition with other companies in your industry. It's not just intranets though – a recent survey also suggests that for entrepreneurs, meeting in informal physical settings is "the single most important source of support".
Going along to events is a great way to get inspired by other people with the same challenges you have (and can help you realise when you ARE actually doing a great job). It can even help you FIND a job – it's helped me, and we also first met our new sales manager Ben at a similar event.
Accelerating connections
Online channels reinforce and support offline networks.
I've found that using personal social networks like Facebook have accelerated friendships with people I've met, that may otherwise have taken longer to grow. You wouldn't necessarily ask for a friend of a friend's mobile number if you meet them at a party, but connecting to them on a social network is an easy, low-commitment way to stay in touch.
When I'm asked how I met some of my friends, it's not always a simple answer – more often than not it's something like "errr… they're so-and-so's friend originally, I think?".
It works the other way too. When I recently moved to my area, I started following local hashtags and accounts on Twitter, and started talking to new people here – I can say, for example, that I know my local friend Anna 'off of the Twitter'. We might have bumped into each other in the pub, eventually (the chances would've been pretty high) but we certainly met a lot faster than if we'd relied on that particular type of social networking hub.
Staying connected in a disparate workplace
In a work environment, online tools help you stay in touch. We have offices in 4 different locations, in two time zones, although through online channels it helps keep the conversation going, and keeps relationships growing, in between meeting face to face.
I remember when we first introduced an ESN years ago at Veolia, there were some lovely examples of weighbridge operators working in an isolated cabin being able to connect to people on other sites for the first time. At the time it was, or at least felt, revolutionary.
This isn't new any more, but I still find myself speaking to laggards (in the adoption curve sense, it's not meant to sound so insulting) about the real benefits of why they might *just* want to give a social network a chance.
Finding your allies
Online channels help uncover allies that you might not meet on a daily basis, and stay in touch when you've found them!
Finding the people that WANT to help, whether that's to champion your new ESN or take the time to share their expertise, is more effective than arbitrarily assigning people into that role.
Wedge is a seasoned intranet and comms professional, networking extraordinaire and a wonderful host and speaker.
The theme of our latest meet-up was 'The winter of (dis)content'. Wedge gave a brilliant presentation on content tactics – you can see his slides and other really useful resources on his website.
If there was ever a time to meet and chat with friends, colleagues, and make new connections, it certainly felt like an ideal time to do so – thanks to everyone who came along!
Here are some great snaps courtesy of Gloria Lombardi of us in action: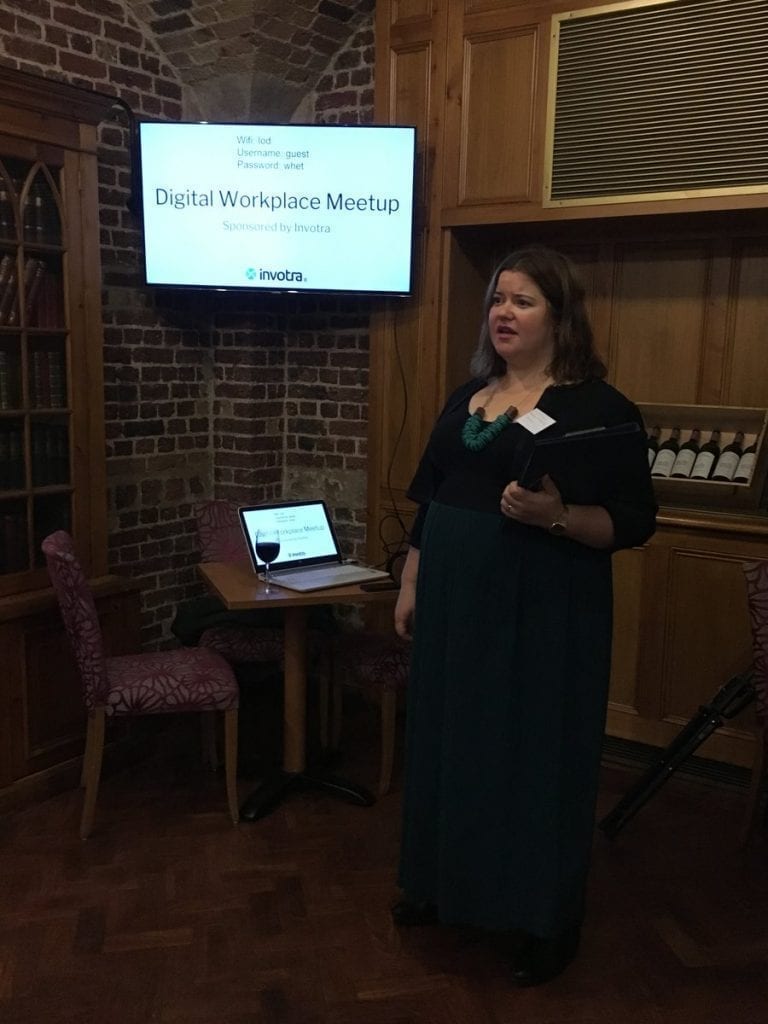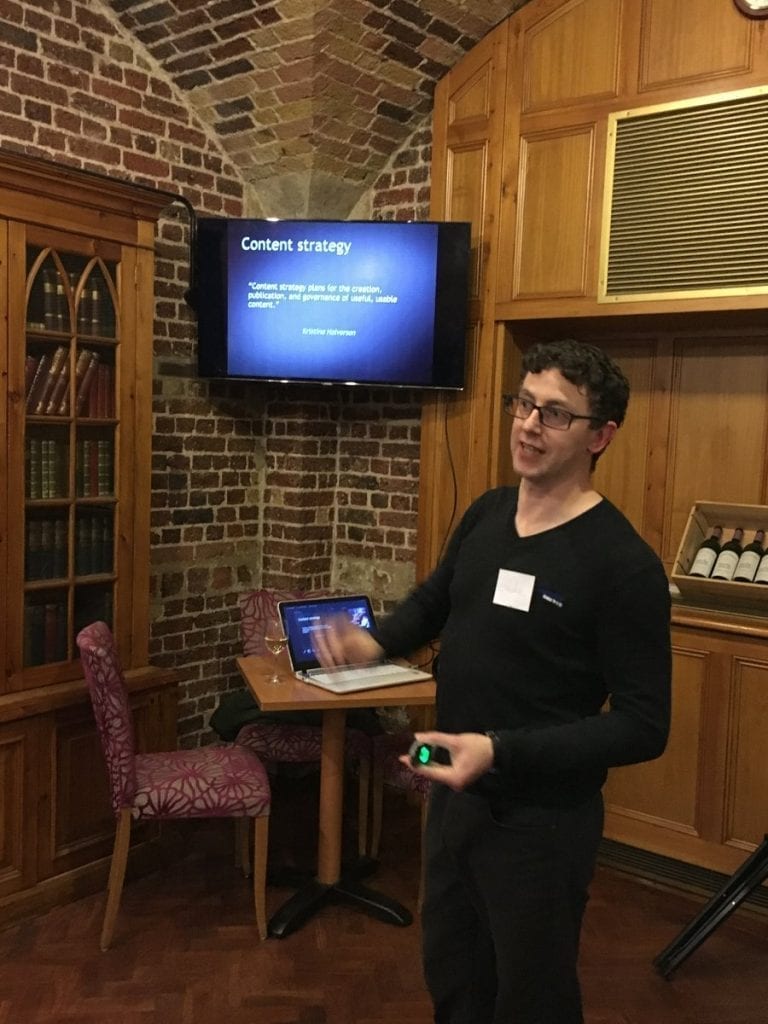 Here's to the final 10 standing – apologies for the blurry nature of the pic!