Invotra Consulting works closely with customers to ensure that the intranet and portal provided by Invotra offers all the functionality customers need. Any adaptations, due to changing requirements, are met through a process of discovery with stakeholders, specification and proposal and then development and testing.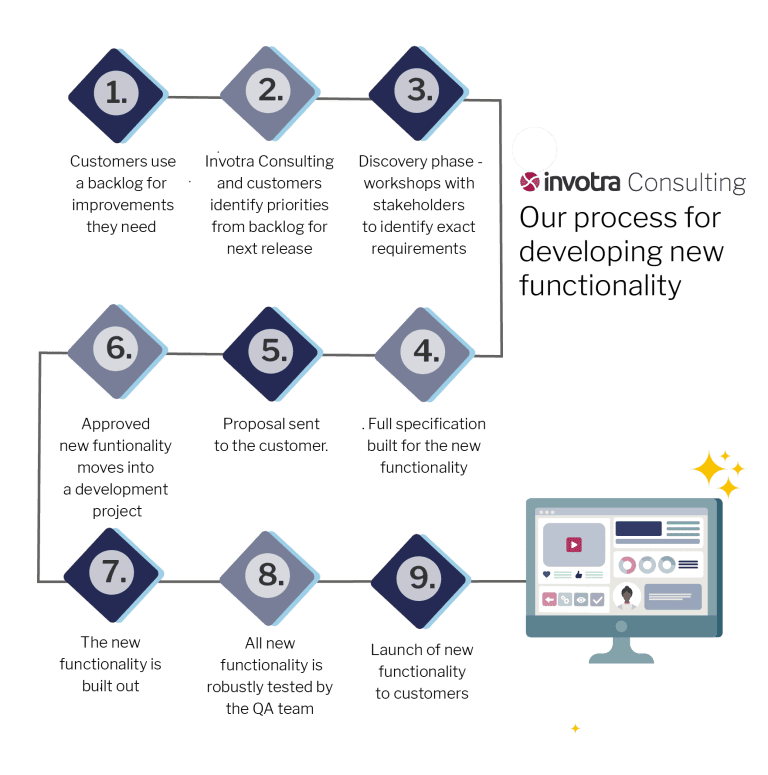 Recent customer requests for updates to functionality have been a new blogs widget and changes to the group description in user feeds. Keri Harrowven takes us through these updates: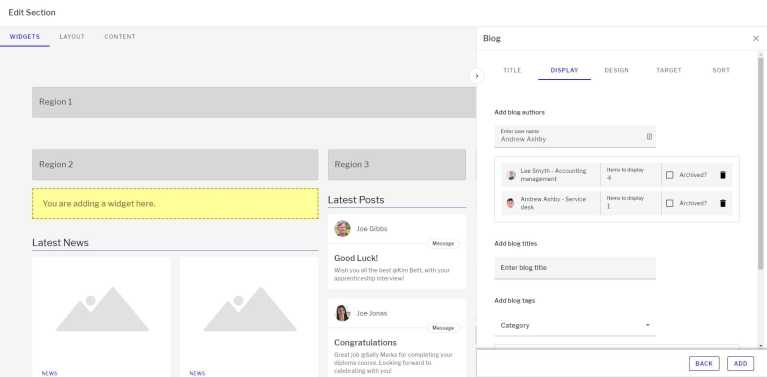 What is the blogs widget?
This functionality provides publishers with the means to feature blogs on pages. Blogs can be selected by author, or a number of authors, by the title of a blog, or by groups of titles, and by a tag, or a number of tags.
The widget also provides a great deal of design flexibility, allowing publishing teams to control how the widget appears.
What enhancements have been made?
Previously, publishers were offered various blog widgets, and could only choose between one of the options for blog selection, title, author or tag. The enhancement allows blogs to be displayed by one or all of these options and allows multiple blogs to be displayed by selecting author/title and or tag. Previously if you wanted to switch between a blog chosen by an author to one by the title you would have to switch out the widget for a new one.
The enhancements provide multiple choice – all in one widget.
What were the challenges in introducing this functionality?
No challenges as such but, as part of the release, a new training guide was created, which details not only all of the new functionality but also explains all of the design options available when using the widgets. This will allow customers to easily train new employees in using the widgets.
Why is the blogs widget an important update?
The new functionality builds in maximum flexibility for our customers, and reduces the time needed to make changes to the featured blogs displayed as there is no need to switch out widgets when updates are made.
Internal Comms team can continuously feature and update the blogs they need people to see, quickly and effectively.
Group description on feed joining message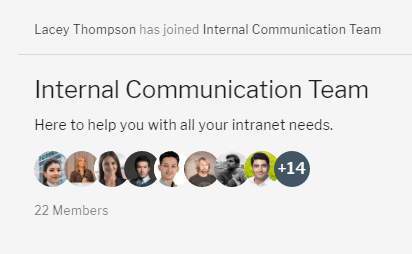 What changes have been made to users' feed?
We have given organisations the ability to tailor what appears in feed messages, when users join a group, so they can control the group description. Customers now have the option to decide if feeds will display a full, detailed description for the group, a short description, one line only or if no feed update will occur, whenever a new member joins a group.
What problem does it solve?
Previously, when a user joined a group, all members of that group were notified, and the full group details were displayed in that notification, as a reminder. Larger customers, with thousands of groups, each with many users, found this was causing users to miss other important feed notifications, and so asked for the ability to personalise this to their own requirements.