Introduction
I'm been an avid sailor since I was twelve and now go sailing most weekends.
I have fallen in love with being on the water, whether cruising a dinghy on the coast or racing a 68ft yacht across the oceans.
I also work with a number of charities that take young people out on the water. It is a privilege to share my love of the sea and see the change in their lives through the challenges that being out on the water brings.  
However, I also know how dangerous and unpredictable the sea can be, so I'm particularly proud of Invotra's sponsorship of the Lifeboat Fund's website.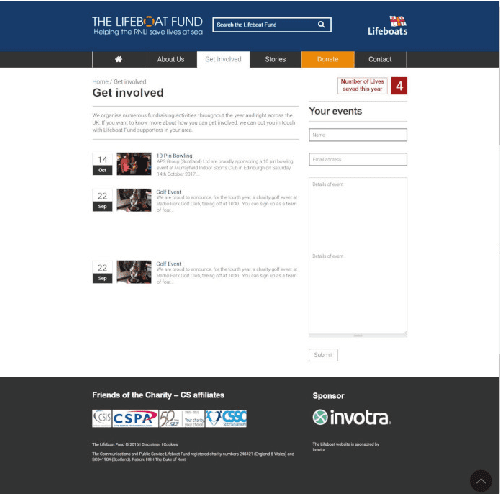 The Lifeboat Fund and Invotra
The Lifeboat Fund is a Civil Service charity that exists to support the Royal National Lifeboat Institution in its aim to "Save lives at sea".
The Lifeboat Fund is a government-wide charity, however, its senior management rotates around the government departments and in 2016, it moved from the Scottish government to the Home Office where with Mark Sedwill as the permanent secretary, there was a drive to update the website.
The old website was Drupal based so with Invotra being experts in Drupal and providing a first class intranet solution, we were approached as to whether we would like to build and support a new website for The Lifeboat Fund. For such a great cause, we, of course, said yes.  
The Lifeboat fund has just hit a particularly exciting milestone of reaching its £1.1 million target to fund the building of a new Shannon class lifeboat for the Wells-Next-The-Sea lifeboat station in Norfolk, aiming to be delivered by 2020.  
The new RNLI Shannon class lifeboats are all purpose built at the RNLI headquarters in Poole and this new lifeboat will be Civil Service 53, which will use jet propulsion and will have a top speed of 25 knots compared to Civil Service 1 which was powered by 10 oars!  
The Lifeboat Fund has been supporting the RNLI since 1866 and their lifeboats have launched over 5,350 times, saving 4,139 lives, with Civil Servants having raised over £26 million which has been donated to the RNLI.  
It is great to see The Lifeboat Fund hit this most recent fundraising milestone and all the hard work put into the different fundraising events and challenges that Civil Service staff have put on to achieve this. Invotra is proud to support this fantastic charity.
To find out more about the Lifeboat Fund or to donate please visit The Lifeboat Fund website.