We released Invotra 4.46 on Wednesday 16th January 2020
In this release we…
Improved the navigation of the groups app for assistive software users. 
Enhanced usability of content creation by simplifying "create post" interaction
Extended the customisation of the primary menu
Expanded API capabilities by allowing users' authnames to be included in the API
Improved navigation in Groups for assistive software users
We added more options for assistive software users to navigate through groups by adding roles and headings.
New article roles and naming for posts and comments mean assistive software users can navigate by article to look for and find each group post. Better headings also make navigating a page much faster.
Mobile app: Faster editing in Groups for assistive technology users
We have improved interaction within groups for assistive software users of the mobile app. Now when a mobile app user wishes to create posts they are now focused into the group edit form immediately after selecting a group to post into.
Primary menu arrow now configurable
When it comes to branding, attention to detail is key. Now when you're configuring the colours in admin, coordinate your toolbar, primary menu and title links with the dropdown arrows. 
We have configured the branding of primary menu arrow so that is can now correspond to any colour changes applied to the menu background, ensuring accessible contrast.

Mobile App: Relocated action buttons on mobile app
We've swapped the position of 'apply' and 'reset all' within the people search directory on the mobile app so they're in a more logical arrangement and improve the user experience.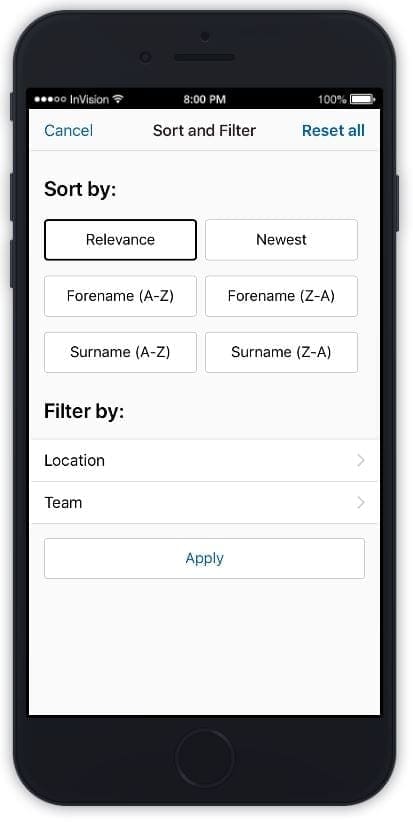 Custom URL alias prefix added
To avoid duplicating URLs, the custom URL alias option will include a prefix of the section, tag, category or setting title. Users will also be prevented from using a URL already in existence. 
We have provided the ability to pass the authname in the API when creating users, so that users created via the API can authenticate via SSO.
Here's a breakdown of the release in numbers:
New features and improvements: 6
Bugs squashed: 22
Internal tasks: 11