Here are the highlights as we consider the interesting debate about keeping people engaged in a gig economy.
Do we really need to keep people engaged? Is it good for employees and for employers?
As we know a gig economy is characterised by the prevalence of short-term contracts or freelance work as opposed to permanent jobs.
Like it or not this economy is growing:
30% of the UK Workforce are now gig workers (approximately 5 million)
18% of UK employees would consider gig work (approximately 8 million people are prepared to make the change)
Non-employer businesses have seen a 50% increase since 2010
With such a strong potential market it's possible that the gig economy could become the primary labour market in the UK and some are forecasting it to be 50% of the UK workforce by 2020.
There are many reasons why an intranet helps both contractors and companies alike.
Faster onboarding
A real frustration of gig workers is getting up and running quickly. People should be given access to company information via an intranet prior to starting so they can become more familiar with policies, procedures, teams and culture.
This improves efficiencies provides a faster transition to productive peak. People also feel valued and integrated and have a more positive attitude from day one.
Engagement
Take our own intranet as an example (we 'employ' European dev workers remotely)
We have a simple concept called 'Message wall' which allows for short, impactful messages to be created for things such as thanking people, telling people 'well done' etc.
When a worker joins, their team welcomes them onboard. This means:
the user gets an email or browser pop-up notification
the user is taken to the intranet
they can react/comment/start a conversation with people via the intranet and integrate with their team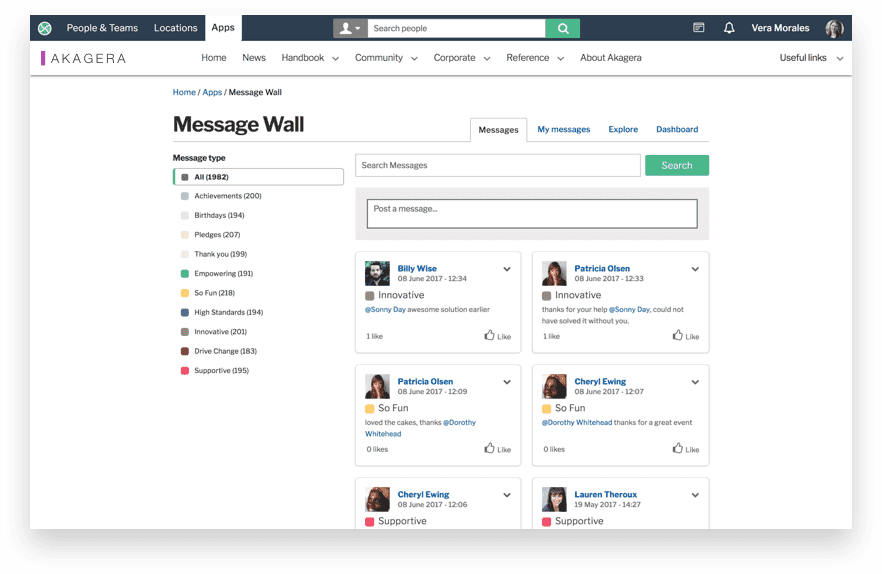 Control
Companies, via their intranet managers, can still maintain control over information which is important with a more transient workforce.
There is a happy medium whereby companies, through the use of portal functionality, can provide restricted access to timely and relevant information (not necessarily the same as employees).
It is a technique used by one of our customers that gives them control to manage gig workers but still allows them to feel involved and engaged with others via the intranet.
Support
Workers can feel unsupported when it comes to information and technology.
There are ways it can be done well:
1. Intranet workshops/webinars
A couple of our customers hold these every two weeks. Workshops offer the opportunity for remote workers to involved on a regular basis. It's a way to seek feedback on what is and isn't working and allows people to ask questions, offer ideas and suggestions.
This helps people feel listened to, valued, involved and creates connections within teams
2. Support portals
An online area can be provided to offer support, and to enable people to share learnings and answer each others questions. This could be as simple as a forum on an intranet. Simple topic areas can be created to offer help such as 'Search', 'Analytics' etc
This is something we originally introduced for our customers. We have a portal called GOV.invotra which allows our central and local government customers to come and ask us, and each other, questions, get support, share learnings etc
Offboarding
The introduction of GDPR triggered us to improve our offboarding techniques.
With the rise of the gig economy, offboarding people is going to be more frequent and is important to control.
Here are some potential techniques available:
Completely removing the user and their content. (A bit drastic perhaps.)
Reassign content and delete – reassign important content to someone else and delete the account and all other content.
Reassign content & anonymise – we use this most often. With this, you keep the knowledge and data, without any personal information.
Measuring success
Is there a difference between the information received by gig workers and employees? Is this desirable and balanced? Can you even do this technically on your current platform?
It is important to clearly identify, and therefore segment data so that you can compare and contrast gig workers and employees. Are they both equally engaged, if not do you want them to be and how do you make improvements?
It is important to define goals and to understand how to achieve them using analytics and dashboards.
Here are some examples:
A measure of engagement could be 'Ensure that commenting is as high for gig workers as it is employees'.
Where will we get the data from? Where is the capture point? How do we know who the gig workers are and who employees are and what number of comments they are creating each to achieve a percentage of overall.
As an example here is one of Invotra's dashboards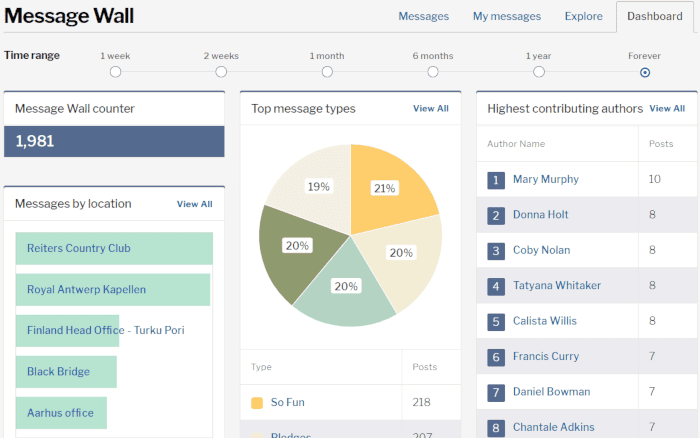 We believe intranets and portals are absolutely important in a gig economy. I know, we would say that. But, all workers perform better if they are valued, informed and can contribute as part of a community. Digital technology should always be accessible, inclusive and have people at its heart.