When living in a society where vast amounts of information is readily accessible at the tip of your fingers, it can be a challenge for corporate organisations to keep up. Couple that with the fact that more and more employees expect flexible working to be standard practice rather than a perk, and you could be left behind as modern technology continues to progress.
One of the biggest problems that organisations face in this respect is ensuring that all their corporate applications can be accessed away from the office whilst maintaining all levels of security, but this can be very costly and time-consuming.
However, with mobile technology now commonplace, staff can access work files and information from almost any location and keep in constant contact with the office.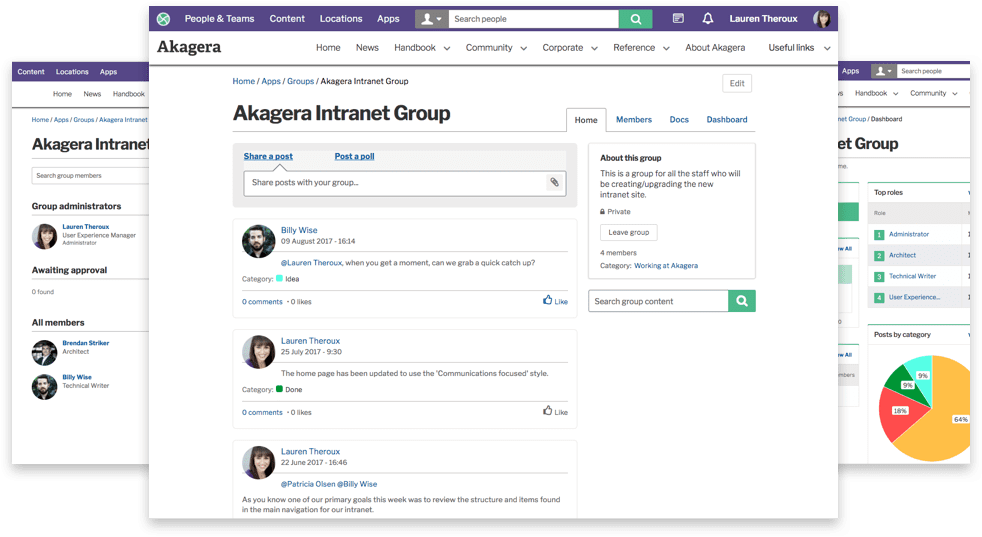 Remote working allows your employees to work more freely, meaning your team feels more appreciated, empowered and supported; therefore helping to decrease staff stress levels.
The adoption of mobile solutions can even help businesses maximise revenues and avoid losses when faced with unforeseen events such as illnesses where people are well enough to work from home, just not travel to the office.
Enabling your staff to work from home benefits, not just the individual staff member, but the organisation as a whole. As well as increasing productivity and improving the health of your employees, it can reduce the amount of capital that is taken up by infrastructure and lengthy commutes, and most importantly allows you to acquire and retain high-quality staff who may not live within a suitable commuting distance.
Remote working is crucial in any modern organisation, and with our product available in the cloud, your intranet is available to any employee anywhere – Securely. Staff can keep up to date with all organisational news and log in to any internal system with the single, secure login that they use on the desktops in the office.
Collaborating with a team on documents or policies has the same comment, edit and publish functions as a desktop, and our product was built with mobile devices in mind; meaning it is responsive to the varying screen sizes of the devices your employees may be accessing the intranet on.

Single Sign-On (SSO)
Single-credential security or SSO technology makes logging into your online platforms quicker and more convenient, whilst also offering multiple other benefits to the reliability of your security.
The ability for your users to access any of the applications they may need through one, secure login, is one that could save your organisation vast amounts of time. By cutting out the need for multiple logins, your users can enjoy a seamless, connected experience.
Invotra Feed –
Keep users up to date with all the latest relevant activities and communications from other colleagues, teams, and groups. Enabling you to ensure they can stay up to date on all the many social interactions that take place every day.
Invotra Feed allows you peace of mind by making sure you haven't missed or forgotten any important developments. @mentioning allows you individually notify people within your posts, and feed messages can be configured to let you know when a piece of content is created and published by someone you follow or published into a group that you are a member of.
Mobile branding –
Your intranet needs to deliver your values and brand to each of your users, whilst also keeping them engaged using exciting content and applications. In order to do this, you need to be in control of how your digital workplace appears and be able to reflect changes within your intranet quickly and accurately.
Our specific mobile branding features allow consistency across all devices which ensures your organisation branding is maintained regardless of how it's accessed. Alternatively, some of your desktop brandings might not be suitable for a mobile device, which is why we give you the option to have different settings. Click here to read more.
Social and collaboration –
At Invotra, we pride ourselves on our social enterprise features and allocate a lot of resource to ensuring that they continue to meet the changing needs of our customers. All of our social features, such as groups and message wall, allow your users to stay connected to the organisation wherever they are and allows them to engage with their peers in a controlled, flexible way. Click here to read more.
Here at Invotra, we believe that the social features our product offers put us in a league of our own, and our customers agree. One such customer received over 2500 comments on one single post, and this huge engagement from the workforce drove change within the decisions of upper management. So, contact us today and see just how much Invotra can benefit your organisation.