Share micro-news updates with your colleagues using Invotra Message Wall
An issue for any organisation when it comes to increasing employee engagement is how to incentivise good work without having to use monetary rewards.
Now as much as we all love pay raises, the ability to reward your employees in an authentic, meaningful way is vital to any organisation focused on having an engaged workforce.
Why your organisation needs Message Wall
Invotra's Message Wall application allows you to do anything from sharing micro-news updates to congratulating colleagues or even wishing people "happy birthday". This ability may seem small in the grand scheme of things, but it is these little interactions, the "well done" or "congratulations on the new house" that make all the difference.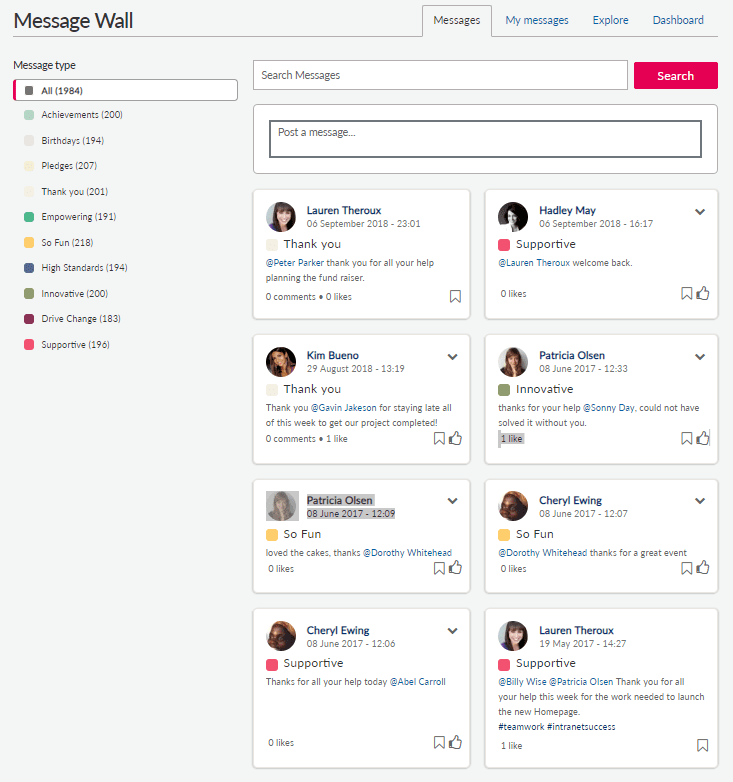 When employees are engaged in this way regularly, they naturally feel more valued by their organisation, and as such will be less likely to look for positions elsewhere and more likely to go that extra mile when your business needs it most.
Message Wall features
Message Wall also allows staff interaction, through likes, rating, commenting and @mentioning, allowing your employees to create conversations themselves and become the drivers of change instead of just passengers.
Messages can also be moderated before or after they are posted.

Amplify employees' voices –
Allow every user in your organisation a space to be heard, in an area dedicated to informal communication.
Create a community –
Allow your community to show they care, sharing messages of gratuity or kindness. Demonstrate how the little things can make a difference in your workplace.
Be informed –
Receive notifications if you are mentioned in a message, and view the levels of engagement through the Message Wall dashboard.
Major central government departments and thousands of their users rely upon our Invotra intranet and portal services every day.  If your current intranet is not fit-for-purpose, get in touch today and ask us for a free assessment and recommendation or click here to book a free demo.