It's been a busy few weeks and I am in the process of defining the scope of an exciting new project with the Product team at Invotra.
Part of the initial work is creating a schedule of work and an inventory of all of the intranet screens and screen-related components that will form the scope of this project.
When working on projects with a smaller scope, administration requires little effort and so it makes sense to keep your workflow simple.
However, when the scope of your project is large, and there are many moving parts, manual administration of documentation and designs can dominate your precious time – leaving you less time to focus on strategic thinking, execution and delivery.

Sharing real-time, accurate information and design references with your team and customers provides better transparency. This drives collaboration and removes friction and bottlenecks in the product development cycle.
The moment a project officially kicks off, the design team will begin the initial design phase. This involves a number of stages, each of which requiring a set of criteria which can then be reviewed and approved by various team members and stakeholders.
Once a set of criteria is met, the design set is moved on to the next stage, eventually being ready for development.
Manually administering a design cycle like this at scale would be impractical and unmanageable.
This begs the question, could there be a solution?
Below is a description of how I have set up my design workflow.
Up-to-date designs in all areas
All of my design files and libraries are created in Sketch, with the designs then being uploaded to InVision.
InVision have integrations with Jira and Trello, meaning that when designs are updated on InVision, all design references on Jira and Trello automatically update too – creating a far more efficient process for managing the different stages designs go through.
These are the integrations: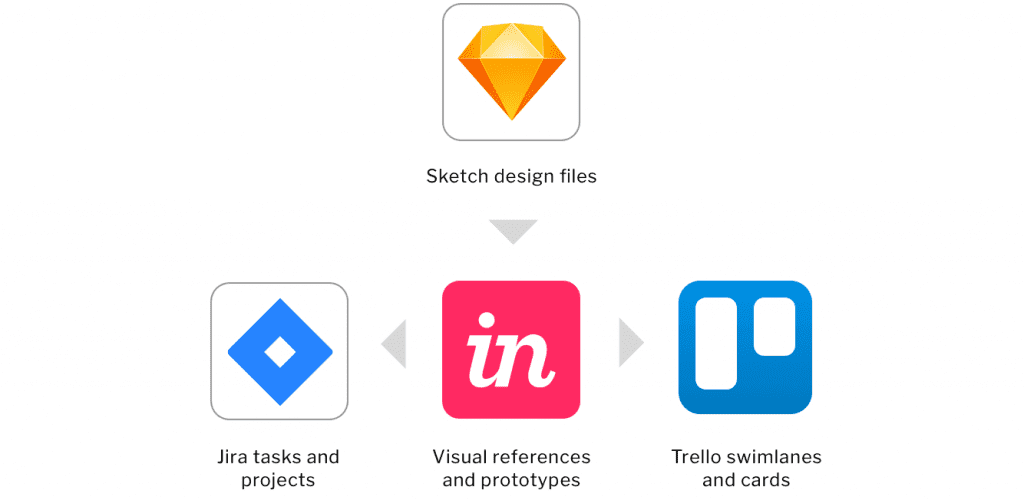 Links to integrations:
Team collaboration
As mentioned above, design sets will move through various stages to be reviewed, evaluated and approved.
A solution is required in order to provide multiple stakeholders with a way to contribute to these stages at various times – without losing sight of where the design sets are at in the cycle and what their status is.
I use Trello to facilitate this process using cards and lanes.
Design sets (screens and components) are defined in Google sheets and can include a range of schedules, plans and design specifications. Rows from various spreadsheets and worksheets can create or relate directly to fields in cards on Trello. This means that when we add or update info or details on Google sheets, the updates take place on Trello automatically.

Links to integrations
But how did a designer with little or no developer skills achieve this?
Well, this is not a simple integration. This is done using Zapier, which uses IFTTT.
For those like myself (until recently) who do not know what IFTTT is, here is a well-defined and succinct description.
"IFTTT derives its name from the programming conditional statement "if this, then that." What the company provides is a software platform that connects apps, devices and services from different developers in order to trigger one or more automations involving those apps, devices and services."
Since I was introduced to the world of integrations and IFTTT software I have been very curious as to its other possible applications, both in work and at home.
Technology has always held the promise of removing the repetitive and mundane processes and tasks in our lives, freeing us up to do what we do best. At Invotra we are extending integration capabilities for our intranet customers – freeing up their time and allowing them to focus on what they do best!