During these unprecedented times, for those who have closed their workplaces and switched to remote operations, it's vitally important we stay connected with colleagues.
Here, we've put together some top tips that we at Invotra are using to keep everyone informed, engaged and most importantly — feeling together.
Broadcasts allow us to update all of our employees with an unmissable banner at the top of our intranet.
Broadcasts can be targeted at teams, roles and locations, making them the perfect tool for both large scale, urgent communications as well as smaller scale updates and notices.
At Invotra, we've adopted a broadcast strategy in which once a day at 4pm, a broadcast is shared to keep everyone in the loop on newly issued government advice and upcoming critical events such as family isolation, school closures and customer expectations.
In these uncertain times, we all need some reassurance and broadcasts help us to do just that.
Regular polls are a great way to gauge the mood of our workforce.
It's important for us to know how our people are feeling and what we can do to support them during these extraordinary times.
Polls are also an open and inclusive way to put out the feelers for fun group activities, we're talking virtual lunch dates and maybe even a virtual pub quiz on Friday!
The daily chats over the screens and round the kettle might be on hold, but we're making sure we keep the interactions flowing.
@mentioning colleagues and sharing our experiences of what is happening at home is helping us to feel connected.
Maybe it's someone's 5 year old popping up to say 'hello' on a video call, it's doesn't have to be all about work. It's about keeping in touch with our colleagues and friends.
When we can't get our heads together in the office, we go to Groups.
Whenever a colleague adds a new post or comments in a group, everyone's feed is updated.
You can start or contribute to a conversation about a task or project, or share parenting hacks to help those who have the kids at home.
Folders and Group Docs also keep people on the same page and working together to get the right results. Everything is traceable too, so we see who's done what and when to avoid duplication and stay productive.
There is a constant stream of information right now, so it's never been more useful to have a knowledge hub that shares trusted and approved sources of information.
We are, for example, taking advantage of RSS feeds, Twitter streams and automatically featuring our latest policies.
The hub is set up using widgets so that it updates live when external sources do, and whenever someone publishes something relevant with the right tag, that too is published for everyone to read.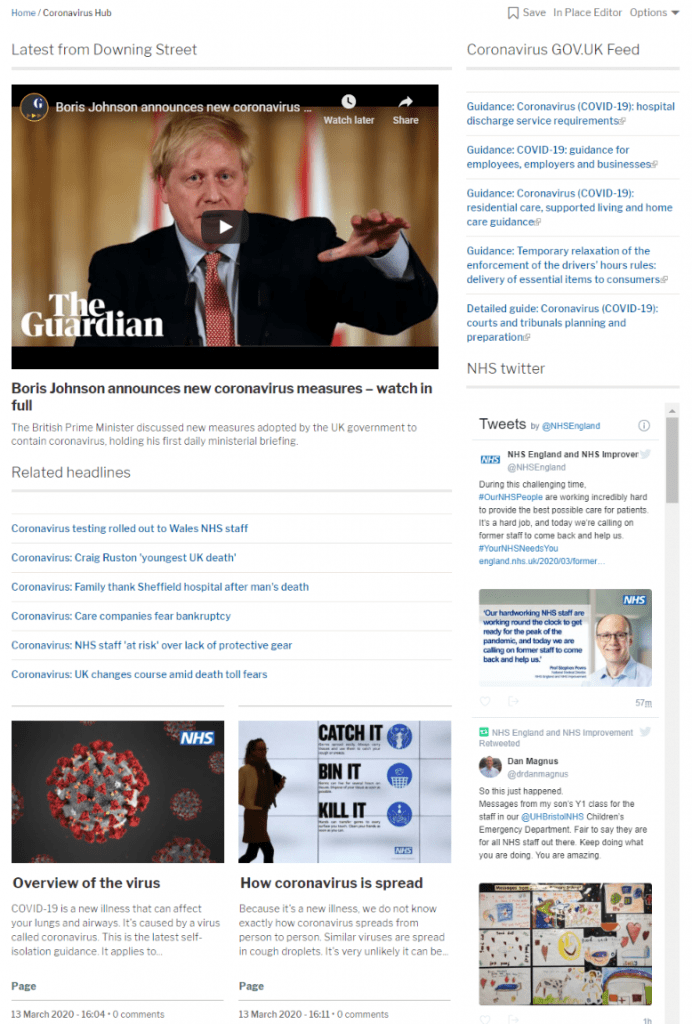 Blogs are the place for getting into the details on any topic that's personal to you, and we encourage our teams to spend 15 minutes to add their tales of WFH.
We suggest that you write about what you think will resonate with others in these testing times. It's never been more important to share and interact.
Perhaps you've experienced a familial blooper such as the one Professor Robert Kelly faced back in 2017 whilst presenting on BBC News.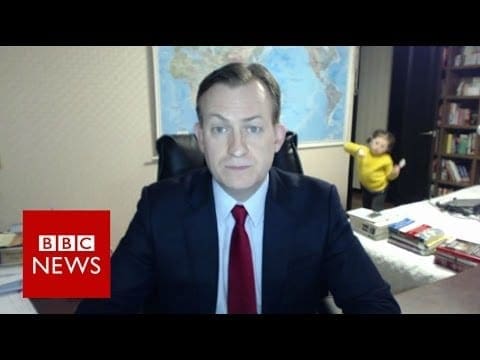 We've had some hilarious tales shared, yes, but we've also had some moving stories from colleagues that have connected with others across the organisation.
Staying connected with colleagues
Great internal communication can transform company morale and keep your organisation feeling positive, productive and engaged throughout times of crisis.
We hope that our tips are helpful and welcome you to get in touch with us.