We're giving you the power to message your entire organisation and be confident it was received by everyone.
At the desk or on the move, broadcasts interrupt whatever people are doing with a notification that does not go away until it's dismissed.
It might be an incident in the area, a burst pipe in the kitchen, or a major new deal — whatever the announcement, leave no-one out.
This is Invotra calling an end to the rumour mills, spam filters and wide-eyed 'I didn't know' face. Because a broadcast is nothing but calm and clear comms for you and your organisation.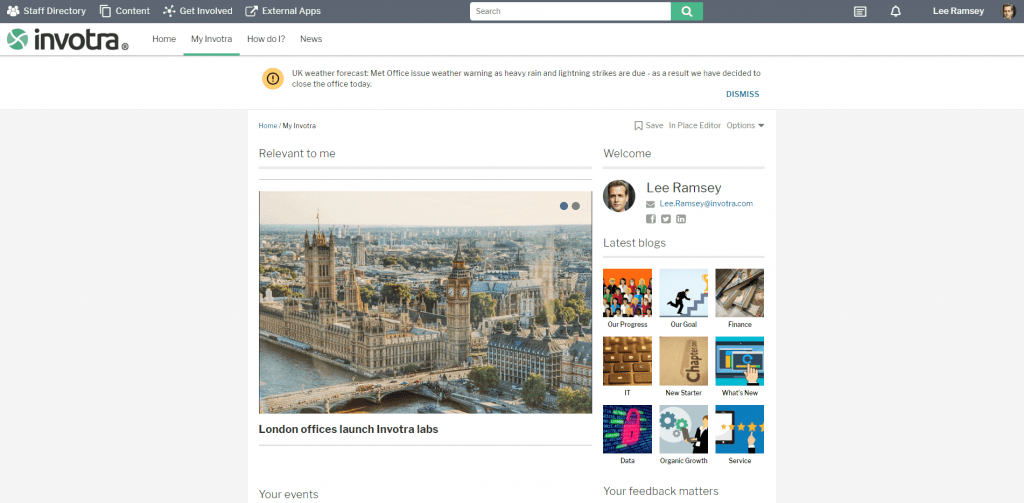 Of course, there are exceptions where you might not want to notify everyone.
Target broadcasts at specific teams, roles and locations, so only they get the message. This is especially useful if your offices are spread across towns, cities and continents.
Broadcasts then, are ideal for the big, urgent stuff and the smaller, significant stuff. The official and effective line of communication when your organisation needs it the most

In its first iteration, webmasters are the only users who can send a broadcast message. They need to follow these steps to do so:
Go to admin, locate 'Intranet tools' and select 'Broadcast'
Add your broadcast message — up to 250 characters
To send to everyone in the organisation, do not target and select 'Save'
To target specific users, choose from teams, locations, regions, and role grades and select 'Save'
If you have any questions or would like more information, please click here to speak to a member of our team.